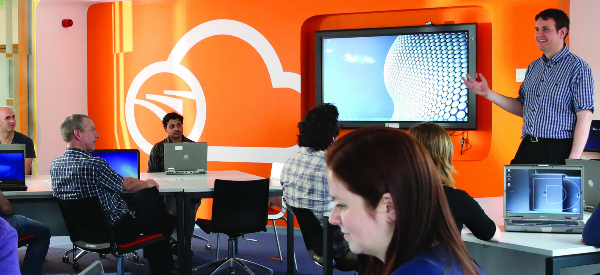 The Internet of Things is a vision in the minds of some and a growing reality in others
From internet-connected coffee cups to cyber-servants, Cloud Computing is changing our lives. Which is why, more than ever, well-versed Cloud Computing professionals are in such demand. That demand can be easily understood – courses such as NCI's MSc in Cloud Computing provide graduates with technical, academic and professional expertise in this growing, ground-breaking field of work.

An important concept in the field of Cloud Computing is the 'Internet of Things'. You don't have to study Cloud Computing to find this interesting; this stuff isn't just for techies, it impacts on us all.
So what is the Internet of Things? Here's the official explanation:
"A global, immersive, invisible, ambient networked computing environment built through the continued proliferation of smart sensors, cameras, software, databases, and massive data centers in a world-spanning information fabric is known as the Internet of Things." (TechTimes, 2014)
And in layman's terms? Essentially it is a future situation in which everyday items have internet connectivity, allowing them to send and receive data in order to make better, more informed decisions. No longer will objects relate just to you, instead they will be connected to their physical and digital surroundings.
According to Harbor Research, the Internet of Things is composed of three main elements:
1. Sensors
Sensors detect changes in different phenomena such as information on an object's acceleration, displacement, chemical makeup, flow, force, load, position, presence, proximity, strain, tilt, and velocity are the examples of the types of data that could be harvested. This could include anything from a coffee cup that self-regulates your morning roast to a favourite temperature to cyber-servants cleaning a shop front. The world will be given a digital nervous system with inputs from everything.
2. Connectivity
The above inputs are then placed onto our personal or home networks – WiFi, 3G – GPS, Bluetooth, Cellular 4G, NFC etc. – before being added to local, metropolitan and national area networks. Network connectivity enables to different input and assemble specific customer behavioural patterns. That is to say, by putting together how people and things interact, one can tailor events to customer needs. The applications of this new technology are literally endless.
3. People & Processes
Systems then integrate the data with people, processes and functions in order to make better decisions. This integration inevitably becomes more tightly unified across time, services and location.
Currently, the most noticeable effect of the Internet of Things for your average Joe is that, over the past few years, we have moved from single do-everything devices to multiple, inter-related devices with overlapping functions. The growth of smart phones and in general smart tech validates this argument. We have gone from human-operated multi-functional mammoth TV remote controls to sleek predicting smart TVs.
At the same time, there are much more interesting, more futuristic, perhaps forthcoming functions of this sort of Cloud Computing technology. Here is an interesting example:
Cloud Case: A 'Sensitive' Carer
The Internet of Things can be used to look after the elderly. For example, wireless sensors could be installed throughout an old person's house. These sensors can then be calibrated to measure such things like health activity levels, sleeping cycles, and movement patterns in order to identify anything unusual.
If these sensors were installed and this elderly person was to have a heart attack, the emergency response could be rapid. Also, alerts could automatically be sent to health care services, and authorised family members could be informed of the ambulance's final destination, current position, and preferred travel route.
Furthermore, by monitoring closely over time, smart devices will substantially improve preventative care and medicine. Rather than waiting for an incident to happen, the GP will call upon the elderly person before any incidents. Why so? As the monitors will keep the GP constantly informed about the elderly person's health status.
It is clear that the Internet of Things adds weight to the argument that technology can be created to make our lives easier. Fortunately for us, we are learning to almost circumvent our natural condition by using things like Cloud Computing to make better decisions.
Is technology evolving human society more than we are ourselves? It's an interesting question indeed, but that's another day's work.
Are you interested in learning about Cloud Computing? Our MSc in Cloud Computing (Level 9) begins in January and accommodates a wide audience of learners. By focusing on the structured management of cloud architectural components, our full-time course in Cloud Computing allows you to gain experience in the latest design principles, models, and technologies in Cloud Computing. This course is delivered by both faculty and industry practitioners with proven expertise in the field. The course in Cloud Computing also takes full advantage of the state-of-the-art facilities of the Cloud Competency Centre.
Our course in Cloud Computing is one of our many masters courses starting in January next year.
Still unconvinced? See our Top 5 Reasons to do a Professional Development Course or Why Do a Masters Course? Give Yourself the Masters Advantage
Questions? Feedback? Leave us a comment below. All commenters on NCI's blog get added to a raffle, to win a weekend away!