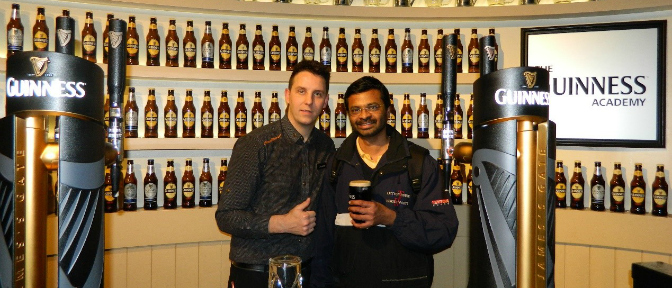 On a clear and sunny day, accompanied by a friend of mine, I visited the Guinness Storehouse at St. James' Gate and the National Museum of Ireland in Kilmainham.
Way back on the 31st of December 1759, Arthur Guinness signed a lease to use St. James' Gate. Since then, this place had been the home to the Guinness Brewery for more than two centuries. Originally, it was a Fermentation Plant from 1904 to 1988, and later, as the location became more residential, the establishment was re-modelled into a 7 storey visitor centre.
An overview of the brewing process is provided on the tour where they show you how barely is first selected, malted, roasted, milled, mixed with hot water and mashed. And then how the liquid is filtered off, boiled with hops and later fermented before being matured and barrelled.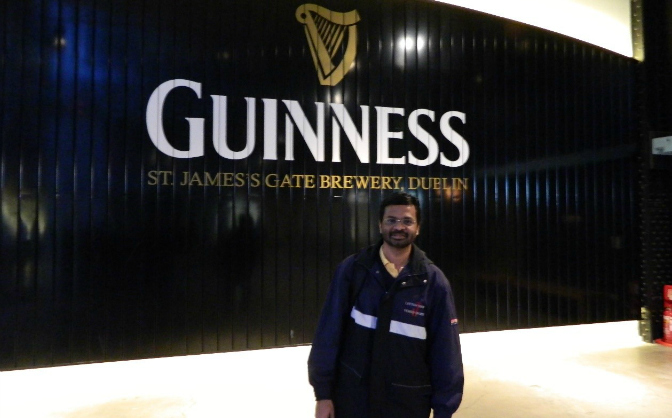 On the second floor of the Guinness Brewery you take part in the "Taste Experience" where you get to sample Guinness. We are told to drink Guinness using our eyes, nose and tongue in order to fully relish it. The right way to drink Guinness is not to sip it, but to take a mouthful in order to feel the variation in the taste at the tip (sweet) and back of your tongue (bitter). By doing this you can also smell the aroma of roasted barley and hops.
Here's some other interesting facts that I learnt on the tour:
1. Guinness' distinctive flavour comes from the waters of the Wicklow Mountains, not the River Liffey.
2. The colour of Guinness is red and not black – this can be realised by viewing light through a pint of Guinness.

My next destination was the National Museum of Ireland which is in one of the oldest army barracks in Europe. The building was designed by the architect Col. Thomas Burgh in 1704 and was handed over to the Irish in 1922. It was first known as the 'Royal Barracks' but later on got renamed to 'Collins Barracks' after Commander-in-Chief Michael Collins, a hero of the struggle for Irish independence.
This museum has Ireland's largest collection of artefacts: silverware, ceramics, glassware, weaponry, clothing and jewellery is all to be found inside. The exhibitions offer a bird's eye view of Ireland's social, military and economic past over the last millennium; from guns to cannons, tanks to planes, Ireland's history is fully on display inside.
Did you find this article interesting? Well we have plenty more interesting accounts from international students studying abroad at National College of Ireland. See Kun Qion's account of the most recent Childline Concert here or have a read at the time Benjamin Wong went to Dublin Zoo. One thing is for sure: studying in Dublin certainly is a lot of fun.
Questions? Feedback? Leave us a comment below. All commenters on NCI's blog get added to a raffle, to win a weekend away!