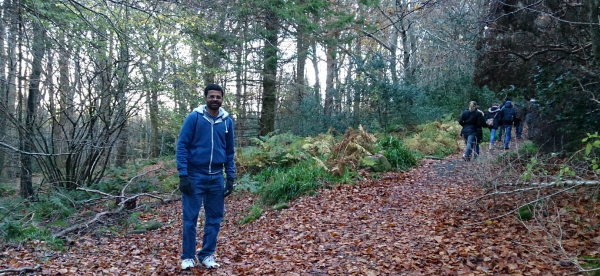 Sri, from India, decided to stretch the legs and check out Ireland's stunning natural landscape.
On a recent sunny winter's day, I decided to take a well-deserved break during my time studying in Ireland. From Dublin it is so easy to explore the rest of Ireland - as well as the rest of Europe! I took the opportunity to experience the Irish Wicklow Mountains and their famous natural landscape. Located about 50kms from Dublin, Wicklow is full of beauty, history and cultural heritage.
Wicklow is known as the 'Hollywood of Europe'; many famous movies, including 'Braveheart', 'P.S. I Love You', 'Excalibur' and the 'Vikings' television series have been shot here. The tour guide also mentioned that Michael Jackson had spent about six months of his last years here at Wicklow as part of his therapy. You learn something new every day while studying abroad!
My day tour started with an uphill guided walk from the Barnaslingan Forest Entrance. The trek is not that steep, although it is slushy and slippery at a few places due to recent heavy rains.
En route I had the chance to see the best of nature - a 12,000 year old huge white crystal rock that had formed from glacial erosion. Further uphill I had a Christmas welcome from a holly plant - a symbol of fertility and eternal life.
After a 90 minute up-and-down trek, I travelled by road to the Enniskerry village for lunch at the Poppies, and after a short break proceeded to get a quick glimpse of Powerscourt Garden, which was named as the World's Third Greatest Garden in 2014 by National Geographic.
Next, I came across the River Dargle. In Irish, "Deargail" means 'little red spots' as there are many red dots on the rocks of the riverbed. The Wicklow Mountains are the source of the River Dargle and it flows into Powerscourt Waterfall, which is about 121 meters high and is the highest waterfall in Ireland.
I then visited Glendalough (meaning 'glen of the two lakes'). It is a U-shaped valley that became a site of pilgrimage due to St. Kevin's long stay in this place during the 6th century.
Nearby this holy site is St. Kevin's cross. Standing at 2.5m tall and made of pure granite, it is a sight to behold. This cross has a round design at the back to symbolize the sun and the moon which was worshipped by pagan people in ancient times. There is a legend that if you could wrap your arms around the cross and clasp both hands then your wish will come true. As I am studying abroad, I tried to predict my next exam paper, but to no avail…
On my way back, I listened to traditional Irish music that was so relaxing and enlivening after a hectic day of walking that I left Wicklow with a sense of wonder and total satisfaction. What a lovely day that was.
Srinivasan Dasarathi is a student of NCI's MSc in Data Analytics.
Did you find this article interesting? Well we have plenty more interesting accounts from international students studying abroad at National College of Ireland. See Kun Qion's account of the most recent Childline Concert here or have a look at the time Benjamin Wong went to Dublin Zoo.
Questions? Feedback? Leave us a comment below. All commenters on NCI's blog get added to a raffle, to win a weekend away!