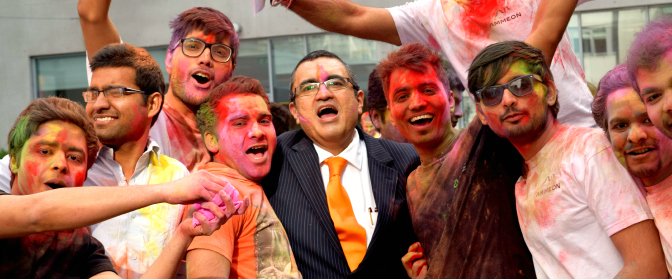 Staff and students celebrate Holi at National College of Ireland
Celebrated on March's full moon day, Holi is a fun-filled, boisterous and popular festival, not only in its native home, India, but in Ireland and NCI too. The tireless efforts of a handful of Indian students repainted, so to speak, people's experience of studying in Ireland. Sourcing materials from local Asian shops, these international students filled the hands of staff and students with hearty supplies of powders in green, yellow, red and purple. With these they helped spread their culture.
For those of you unaware of what this ancient festival signifies, it really is quite simple: forgiveness, the coming of spring and the ending of winter. This event is on the cards for next year too as the festival was such a resounding success this year.
Read about becoming an international student at National College of Ireland, or email us on international@ncirl.ie for more information. Why not check out Okwori's experiences of life in Europe or read about Vishwajeet's or Priyank's successes in the Irish job market as an Indian graduate.
Questions? Feedback? Leave us a comment below. All commenters on NCI's blog get added to a raffle, to win a weekend away!