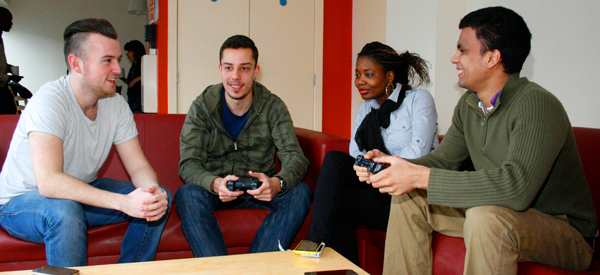 NCI's Digital Marketing Intern, Owen Barnes, gives you five tips that will help you quickly find great accommodation while studying abroad
There are many benefits of studying in Dublin, however, in the current market the constant pursuit of student accommodation can be a bore and at times an unrelenting struggle.
A fair-priced roof over your head, as well as pleasant surroundings and friendly flatmates, is of the utmost importance for those of you studying in Europe, or indeed pursuing a postgraduate and undergraduate course in colleges in Dublin; it helps you to prosper and it gives you more freedom, professionally, financially, emotionally and academically.
In my own experiences of studying in Europe and living independently in Boston, Cork, Dublin (in a variety of locations, North and South), London, and Manchester as a student, there are a number of ways to get ahead of the posse. Admittedly, an element of luck plays its part in the search for accommodation, however, with a bit of guile and guidance I bet these tips will make your efforts a lot easier.
So here are my tips for the Irish housing market (which is mainly Daft.ie and Rent.ie):
1. Search and Communicate Properly
Do not, and I will repeat, do not continually trawl websites trying to find a house. Set up specific alerts - Daft have a great filtering tool - that forward any communications to an email address that you have created purely for house-hunting purposes.
Why the new email address? Put simply: you'll be flooded with boring emails during your pursuit of student accommodation. By creating a new email address you can have a separate channel for all inbound and outbound emails.
And when producing copy for emails, write in a concise, friendly and thorough manner – nobody likes informality at the nascent stages of these sort of relationships.
2. Be Efficient
Reading the description of each and every room is a waste of your time. The trick is to Ctrl C and Ctrl V – copy and paste – as this is a numbers game; the more applications you send out the more likely you'll find a nice place to stay.
So I recommend a scatter gun tactic for all of you homeless students who are or may be one day studying in Dublin. The trick is to create a universal and persuasive cover letter that can be used for any room or property. Try reformatting your cover letter that you use for job applications but do not take yourself too seriously; detail your character, hobbies and personal characteristics and include how much of a tidy, responsible, polite, considerate, trustworthy, friendly and sociable character you are (or hope to be).
3. Establish Trust Early
Don't wait for the landlord or tenant to ask you "do you have work or previous landlord references?" Instead, say something along the lines of "If you require a CV, work reference or previous landlord reference, please do not hesitate to ask" in your initial message. It's always best to appear open and prepared when studying in Ireland – people can be very nit-picky.
Lastly, explain to them that you have a steady income, savings or financial support from your family. Don't forget that this is an investment for you as well as the landlord or subletter.
4. Be A Super Cool, Friendly and Punctual Person
If you get past the email stage, well done. You've made it this far, and the viewing is the easy part especially if you are good with people. The trick is persuading them, which sounds harder than it actually is. I suggest dressing and grooming well, speaking slowly, smiling, and sporting an open body stance. Your goal is to make them feel comfortable so treat it like an informal job interview. Also, bring a hard copy of your CV, work references, bank statements (online and offline are both okay) and previous landlord references to the viewing, and offer it to the landlord or tenant at the end. It will show you're trying your best.
5. Don't EVER Get Your Hopes Up
Sometimes, it is better to recognise that we are in darkness than to pretend that we can see the light – and house hunting is one of these situations. It is likely that many places that you have viewed will not end up being your final destination. The secret to keeping your spirits up during your house hunting endeavours is to face the fact that the world is horrible, horrible, horrible. People will play you off each other, keep you waiting and change their minds at the most inconvenient times. So just assume the worst of the world and its people during this testing period.
Need more information? Read about becoming an international student at National College of Ireland, or email us on international@ncirl.ie for more. Did you find this blog post helpful? If so, why not check out Okwori's experiences of life in Europe or read about Vishwajeet's successes in the Irish job market.
Questions? Feedback? Leave us a comment below. All commenters on NCI's blog get added to a raffle, to win a weekend away!