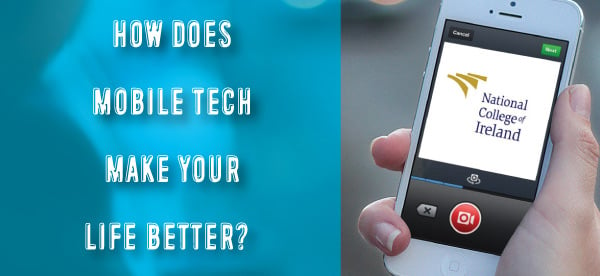 You don't have to be studying or working in the area of mobile technologies for it to have had a huge impact on your life. (Although if you do want to get into this field, we can help – check out the MSc in Mobile Technologies at National College of Ireland, or learn more about working in this exciting industry).

In support of UNESCO's Mobile Learning Week 2015 (23-27 February) we are asking our students to consider the positive impact of mobile technology on your lives. The theme of this year's week, which is UNESCO's flagship ICT in education event, is empowering women and girls - and so we are asking our female students in particular to consider the benefits of mobile technology and how it has changed your life for the better.

You can share your thoughts on social media with the hashtag #MLW2015 or by posting to the Facebook page. The organisers will also be on campus on Thursday 5th February at 2.30pm to ask students that very question. For more information on Mobile Learning Week check out the UNESCO website.
Questions? Feedback? Leave us a comment below. All commenters on NCI's blog get added to a raffle, to win a weekend away!