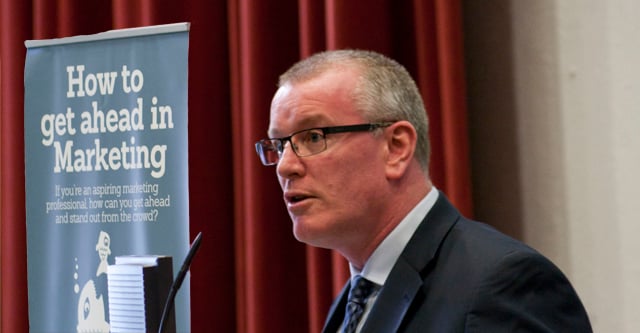 Working in the world of marketing is an exciting career prospect. There are many varied opportunities across this fast-paced and exciting industry. But it's also a challenging and competitive field, so if you're an aspiring marketing professional, how can you stand out from the crowd?
Marketing just happens to be a specialist subject of ours at National College of Ireland, so we brought together some experienced marketers to answer that very question, and to share their tips for success.
How To Get Ahead in Marketing involved a panel of experts from agencies to brands, sales to recruitment, advertising to research. There were some common themes running through the talks. Do it because you love it. Be brave. Have fun. Avoid typos. And there was some very specific advice from each of the speakers.
First up, Rob Ward from NCI talked about the value of education and the various full and part-time marketing courses available at the college's Dublin campus. These include the MSc in Marketing, Certificate in Digital Marketing, Diploma in Marketing, Advertising, Sales and PR, the Diploma in National and International Selling and BA (Hons) in Marketing Practice. (Click through to read more about these courses or come along to our next Open Day on Wednesday 20th May.)
Rory Brennan, a leading recruiter with Marketing Career Recruitment (MCR), echoed this point, saying that academic achievement is a key consideration when he's preparing a shortlist of talent for his clients. Along with education and experience, the following character traits could help you get on to that shortlist: eagerness, smarts, positivity, enthusiasm and the ability to communicate. Rory also stressed that, contrary to what our nerves might tell us, the interviewer is actually looking forward to the meeting and wants us to do well. Check out Rory's top interview tactics here.
Next, we heard from Dena Walker, Head of Advertising with Irish International (who helped design NCI's Certificate in Digital Marketing). Dena gave us her top 12 tips about working in marketing, Buzzfeed style. Referencing Sheryl Sandberg's book, "Lean In", where it's argued that it's not a career ladder, but a jungle gym, Dena went one step further and compared a marketing career to the fairground. Don't view your career progression in a linear fashion but try out lots of different things, expect the unexpected, be open to change and have lots of fun along the way. Check out the rest of her tips over here.
Pat Mannion, Commercial Director with JC Decaux (that's him pictured above!), agreed with many of Dena's points, while highlighting that good marketing that doesn't make money is not good marketing at all. Marketing, said Pat, is open to everyone; you don't need to have lots of experience as long as you're curious and interested, ask lots of questions and have so much fun you won't even notice how hard you've been working.
David Field, Marketing Director at Brown Thomas, again stressed the importance of working in an industry you like. He fell in love with retail at an early age and spent time learning all aspects of the business, from shelf stacking to customer service. David also emphasised the importance of attention to detail; in his first week at Brown Thomas, he found himself testing canapés for a customer evening to make sure they could all be eaten in just one bite!
The final speaker of the evening, Ian McShane, gave an interesting overview of the Irish research industry and its evolution from market research (focusing solely on facts and figures) to marketing research, which now includes consumer and planning strategy. A trained psychologist, Ian said that a good researcher must have innate empathy and instinct, and understand that marketing research is a blend of art, science and technology.
The event was a fascinating insight into marketing and the creative industries and, with candid advice and the chance to network over nibbles and wine, was great fun, too. If you'd like to be notified of future events at National College of Ireland, make sure you sign up to our events list.
Questions? Feedback? Leave us a comment below. All commenters on NCI's blog get added to a raffle, to win a weekend away!