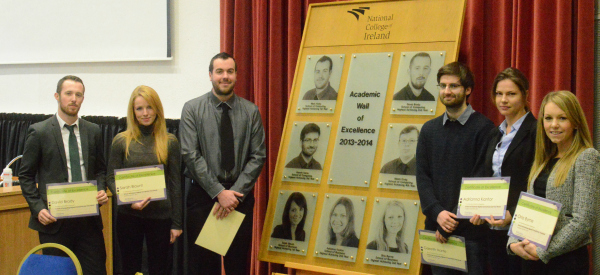 Between the Grammys, the BAFTAs and the Oscars, awards season is well and truly underway - and the world of academia is no different!
Each year, National College of Ireland recognises the significant achievements and talent of its student body, with awards and honours for academic excellence, sporting achievements and student participation and innovation.
At today's Student Excellence Ceremony - always a proud and moving event - students Mark Kirby, David Brady, Gareth Harte and Adam Cody were honoured by the School of Computing, with Sarah Blount, Adrianna Kantor and Orla Byrne being honoured by the School of Business.
Each honouree will have their picture hung on the eighth annual Academic Wall of Excellence, which recognises the students who achieved the highest overall grades and excelled in their year. Permanently located in the college Atrium, the wall serves to inspire and encourage NCI students in their educational journey.
Outstanding student achievers were also inducted into the Wall of Fame, which is permanently displayed from the ground floor stairway and marks all of our student achievers since the year 2000. Congratulations and thanks to this year's honourees:

Gary Barron, who received the Basketball High Performance Sport Scholarship
Stacey Flood, who received the Rugby High Performance Sport Scholarship
Azeez Yusuff, who received the Soccer High Performance Sport Scholarship
Orla Byrnes, who received the President's Award
James Duffy, who received the Students' Union President Award
Katie Donohoe, who received the Student Participation and Innovation Award (check out Katie's heart-warming farewell to NCI)

Stay tuned for our short video of the event!
If you would like to get more involved with student life at NCI, why don't you check out this handy advice from NCISU's President, James Duffy, and Clubs and Socs Officer, Patrick Erhard.
Questions? Feedback? Leave us a comment below. All commenters on NCI's blog get added to a raffle, to win a weekend away!