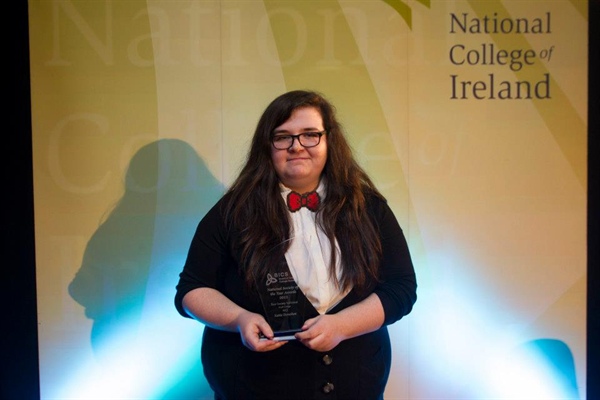 We're not ashamed to admit that this farewell video to NCI from recent graduate Katie Donohoe brought a wee tear to our eyes. Katie's camera was a familiar sight on campus – as co-founder of the NCITV society, Katie recorded student life and NCI events to share on YouTube; check out the channel here.
Along with her studies in the School of Computing, Katie made a huge contribution through her work with various clubs and societies and in her role as Public Relations Officer with NCISU. In her final year Katie won the BA (Honours) in Technology Management Best Fourth Year Project for her innovative design and development of the Rapid Refund Mobile Application. At graduation she received the Student Participation and Innovation Award in recognition of her many achievements.
Katie is now working with DELL and we're looking forward to hearing all about her future successes – and to welcoming her, and her classmates, back to NCI for alumni events. If you're a graduate of the college make sure you keep in touch by signing up to our Keep in Touch alumni service

Questions? Feedback? Leave us a comment below. All commenters on NCI's blog get added to a raffle, to win a weekend away!