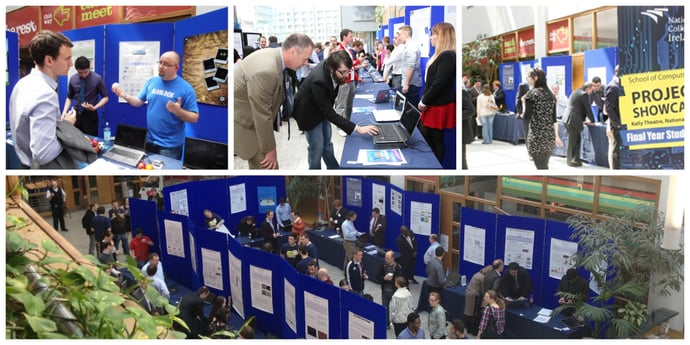 National College of Ireland is issuing an open invitation to tech and ICT companies to come and check out our talent!
We are holding our final year IT project showcase next Tuesday, 26th May from 11am – 1pm at the college's Dublin city-centre campus.

More than 120 final year degree students from the School of Computing will display their work to industry professionals at the event, with projects ranging from a real-time virtual fitness trainer to cloud based payroll and banking applications, and a mobile app that will make life easier for craft beer drinkers to order in their favourite pubs! Browse all projects.

Dr Pramod Pathak, Dean of the School of Computing at National College of Ireland, said, "Even throughout the worst years of the recession, we heard reports from the Irish software industry about literally thousands of available jobs they were unable to fill. This event will demonstrate to employers that National College of Ireland should be their first port of call for suitably qualified IT professionals with a wide range of skills across areas like data analysis, information security, gaming and multimedia, cloud computing, software systems and more."

Dr Pathak also urged jobseekers to avail of the free ICT courses the college is offering under the Government's Springboard+ initiative for Higher Education. He said: " The Springboard+ initiative is a wonderful way for people to acquire new skills that are in demand in the Irish economy. Developing your technical skills and knowledge will put you in a great position to be a part of Ireland's thriving ICT industry."
Last years' showcase resulted in a number of graduate job offers and we're excited to build on this momentum. NCI Careers focuses on maintaining high employability rates for our studentship, so it is public exhibitions like this that allow us to show talent-hungry employers what students in NCI are capable of achieving. 50 employers attended last year's Project Showcase at National College of Ireland and we expect even more to attend in 2015's exhibition.
This is an unmissable event for companies looking to expand their workforce with the best and brightest of Dublin's youth - there is a reason why NCI is voted 'Best for Jobs' by the Sunday Times two years in a row!
Book now to attend and meet over 120 Final Year Computing students with specialisations in cloud computing, gaming and multimedia, networking and mobile technologies, software systems and research of technology in business. Confirm your attendance online here.
Questions? Feedback? Leave us a comment below. All commenters on NCI's blog get added to a raffle, to win a weekend away!