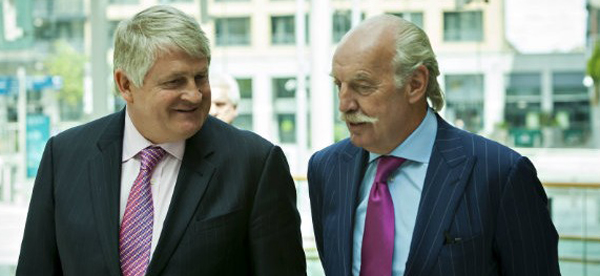 It was such an exciting day for us at National College of Ireland on Friday, as we launched our three new courses in the Personal Financial Education space, along with our partnership with the Institute of Canadian Bankers.
There was a palpable buzz about the college for the launch event – not just because of our amazing guest speaker, Dermot Desmond (being welcomed above by our Chairman, Denis O'Brien) but also because there is such a genuine sense of enthusiasm and excitement about the new suite of courses.
Until now there has only been one option in retail financial services education, and we are delighted to introduce what we really believe is a better choice.
We are offering two new courses designed to meet the Central Bank's Minimum Competency Code, the Certificate and Diploma in Personal Financial Planning, as well as a Certificate in Personal Insolvency Practice.
Start-up funding for the new programmes has come from our Chairman, who is one of Ireland's leading businessmen and Chairman of Digicel Group, Denis O'Brien. He said:
"Banking and financial education in this country has not changed to reflect the major changes in the regulatory environment we have seen worldwide over the past six years.

NCI's new courses reflect and meet the 'real' world that banking professionals find themselves in today.

The new courses in financial education will offer a high quality classroom experience, with face-to-face learning blended with the best of online technologies. This is sadly missing from other programmes on the market today.

National College of Ireland wants to raise the standard of learning outcomes and offer an international designation, and we think these new courses offer a better solution."
Speaking ahead of the launch, our guest speaker Dermot Desmond had this to say:
"This is a topic close to my heart. I believe there is a very real need for change and that NCI's new financial education offerings will ultimately improve and enhance the provision of personal financial services in Ireland.


This is good news all round – higher quality outcomes for the individual student mean a better outcome for the employer and ultimately, better financial advice for the Irish consumer."
Questions? Feedback? Leave us a comment below. All commenters on NCI's blog get added to a raffle, to win a weekend away!