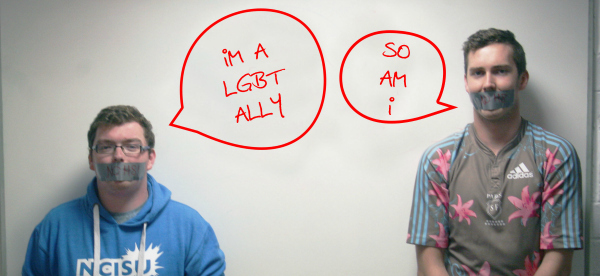 Last week, NCI's SU voiced its support for NOH8 campaign as part of the college's Equality Week. Our student's welfare is at the heart of NCI's beliefs.
The NOH8 Campaign is a charitable organisation in the United States whose mission is to promote marriage, gender and human equality. Unlike traditional charitable movements, NOH8 greatly relies on social media, visual protests, and, in particular, user-generated content to spread its simple message – gay rights are human rights, people are people.
NCI is proud to support such a grassroots initiative – the times they are a changin'. Consider this for a moment: being actively gay was illegal until the 1960s in England, and until 2003 in Texas, while China used to send homosexuals to labour camps without a trial. We've come a long way, but there is still more to do.
Great charities like The NOH8 Campaign are directly encouraging these societal shifts. The NOH8 Campaign gained worldwide notoriety after its canny silent protest. Photos were featured with the subject's mouth taped with "NOH8" painted on one cheek in protest, symbolising the voice of the subject being silenced by anti-gay legislation in the USA and all over the world.
This stunt was created by celebrity photographer Adam Bouska and partner Jeff Parshley in direct response to the passage of Proposition 8 in California, an amendment which banned same-sex marriage. Five years since its inception, the NOH8 Campaign has grown to over 30,000 faces. It continues to grow at an exponential rate day by day.
NCISU Talks Back: Vice President for Welfare, Equality and Part-Time Students Emmet Hughes
"Our NOH8 Campaign was aimed to show support for LGBT rights. With the Marriage Equality vote due to take place next year, it is imperative that students in colleges in Dublin are aware that their voice and vote can help to change the way in which marriage is viewed in Ireland. This campaign highlights that students should not keep quiet about their views; that students need to stand up and fight for equal marriage in Ireland; that students can actually make a difference."
Questions? Feedback? Leave us a comment below. All commenters on NCI's blog get added to a raffle, to win a weekend away!