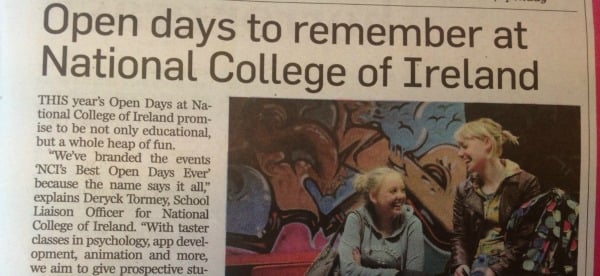 Today's Irish Independent carried a lovely piece about our College Open Days in Dublin
"This year's Open Days at National College of Ireland promise to be not only educational, but a whole heap of fun.
"We've branded the events 'NCI's Best Open Days Ever' because the name says it all," explains Deryck Tormey, School Liaison Officer for National College of Ireland. "With taster classes in psychology, app development, animation and more, we aim to give prospective students a real feel for college life at National College of Ireland."
Attending an open day is one of the best ways to get a feel for a college, its courses and the general atmosphere on campus.
"One of the things that crops up again and again when you talk to an NCI student or graduate is the great buzz around the place. Our modern, city-centre campus has a lovely atmosphere and the smaller size of the college is definitely conducive to the friendly and welcoming vibe."
The Dublin college, which specialises in business, computing, psychology, marketing, HR, accounting and more, is running Open Days on Wednesday 26th November from 10-3pm, and Saturday 24th January 2014.
Follow the hashtag #NCIBestOpenDayEver on Twitter or keep an eye on ncirl.ie for more."
Browse the list of undergraduate courses at NCI or read our blog post on why you should attend a college open day.
NCI's Best Open Day Ever
Questions? Feedback? Leave us a comment below. All commenters on NCI's blog get added to a raffle, to win a weekend away!