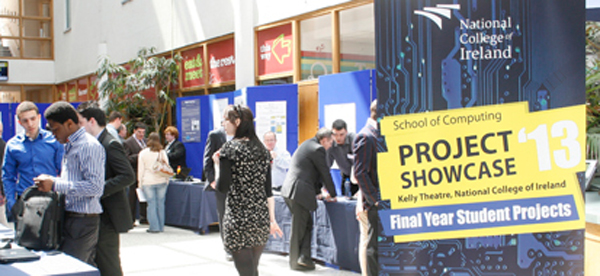 Final year computing students from National College of Ireland excelled at this year's Project Showcase, which was the biggest yet in the history of the college.
More than 100 students exhibited to more than 50 companies, including Amazon, Microsoft and Fujitsu – many of whom interviewed students at the event for potential graduate positions.
It was fantastic to see the level of enthusiasm for the projects, which included games, research projects, mobile apps, web sites, apps and more, many of which were inspired by the students' third year work placements.
Keynote speaker, Patrick McLaughlin from Oracle, told students it was a great time to graduate and gave them fantastic advice about job-hunting and starting their careers in the IT industry.
We'd also like to congratulate the following students who were awarded prizes for their exceptional work as part of the event:
Peter Ibekwe, winner of the Oracle award for best School of Computing project
Daniel Breen, winner of the Version 1 award for best project in BSc (Hons) in Computing
Martin Tracey, winner of the Invercloud award for best project in BSc (Hons) in Business Information Systems
Brian Shortall, winner of the Wholeschool award for best project in BA (Hons) in Technology Management

Questions? Feedback? Leave us a comment below. All commenters on NCI's blog get added to a raffle, to win a weekend away!