Brazilian student Lucas Dias Ferreira shares his experiences of studying at NCI in Dublin under Brazil's Science Without Borders (Ciência sem Fronteiras) scholarship scheme.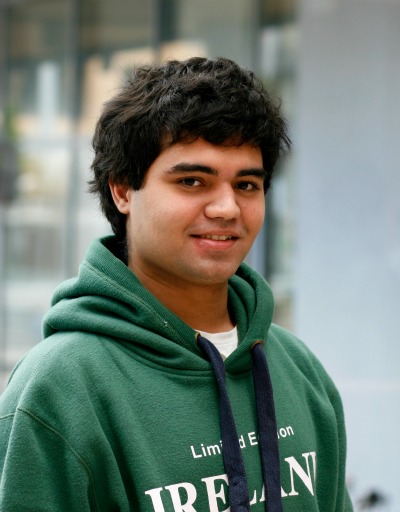 National College of Ireland is delighted to welcome Brazilian students under Brazil's Science without Borders (Ciência sem Fronteiras) scholarship scheme and has a vibrant international community both living and studying at our city centre campus in Dublin. We look forward to enriching this community over the coming years as we welcome more students from Brazil to enjoy the intellectual, cultural and social aspects of life at NCI.
Here, 22-year-old Lucas Dias Ferreira, originally from Rio de Janeiro but living in Brasilia, shares his experiences:
"I have always dreamed about going to study abroad but the costs have always been too high for me. When the Science Without Borders initiative was launched I saw that it was my chance to realise my dream; I changed my course at IESB to a relevant programme in order to participate, started to study English, and about 6 months later I arrived in Ireland.

When I was deciding on which institution to apply to I looked first for those that could accept me based on my English test grade (read about NCI's minimum entry requirements). Then I researched location and education quality, and finally applied to IT Carlow, National College of Ireland and DIT Dublin.

I was really glad at the attention I received from the international office at NCI. I remember I sent lots of emails and asked lots of questions and I always received fast and detailed answers. I was amazed at how much support I was given and it helped me to make my decision.

NCI has a great location – Dublin, the capital, is a small city but with a big-city atmosphere. The night life is good and many places are open 24 hours. Most places are really close to NCI so it is possible to walk everywhere. There are also a huge number of nationalities so it possible to meet a lot of different people and to experience different cultures.

I really like the atmosphere and environment at NCI. The building is really beautiful and very comfortable. I like the fact that there are lots of areas for students to rest, relax, read or talk with other students in an informal way. I have always felt uncomfortable at schools since I was a kid, but NCI is a place where I really feel comfortable, secure and motivated.

I live on campus and think it is great to study so close to college. The rooms and apartments are good and the services provided by the Accommodation Office are great. They are good at responding quickly – if I request repairs, they are usually done that same day.

I am studying Business Information Systems in the School of Computing and the professors pay a lot of attention to each student, which is really good and different to my experience with Brazilian professors. My impressions are that they are always available to talk and to consider each student individually, considering each student's situation, challenges and skills. There are a lot of departments providing support and help, but also every staff member I have met is ready to help with any problem or situation I might have."

If you are thinking of applying to NCI under the Science without Borders programme, check out our information page or watch our short video, to hear what other Brazilian students have to say about studying at NCI.