It is an exciting time to be considering digital marketing courses as an avenue for professional development. We're in the midst of a momentous, digital marketing revolution: many online marketers believe that all has changed; that all will change; and all the things that once worked 'just ain't what they used to be.'
The great Alexis de Tocqueville (1835) once remarked that: "In a revolution, as in a novel, the most difficult part to invent is the end." Recent, rapid changes in the way we consume and access media have led many commentators, practitioners and firms to conclude that digital media has heralded a new age of marketing and that traditional advertising is dead.
One can discover, however, both the advantages and disadvantages of digital media and traditional marketing solutions for organisations of all sizes. So don't just jump onto the bandwagon unknowingly - figure out what does and doesn't work for your organisation, and sign up to a digital marketing course today.
Quit Fooling Around
What is clear is that things haven't changed irrevocably in marketing as a result of keyboards, monitors and CPUs – habits can take a long time to change. However, digital media's ability to communicate to consumers through inbound marketing has transformed integrated marketing communications campaigns, and gross advertising spend, according to WARC (2015) (see below), reflects this change in kind. Internet marketing spend in Ireland has increased exponentially – 2200% from 2005 to 2013 (see below).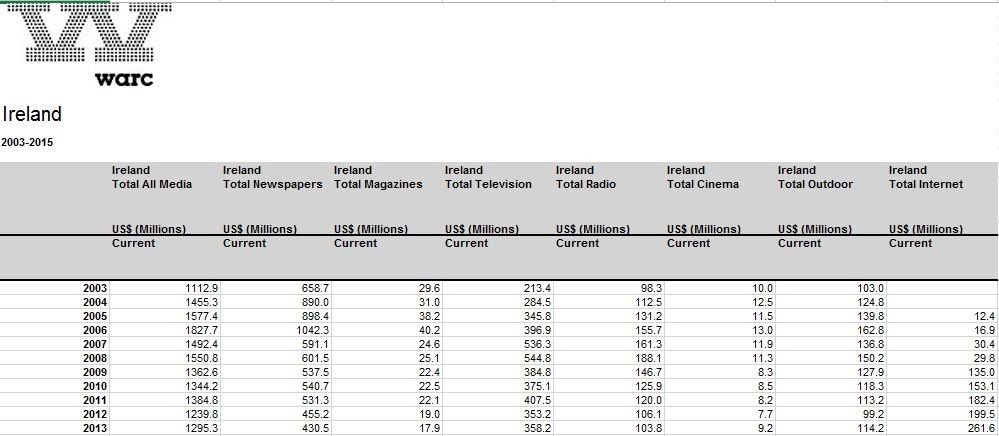 Gaining the Trust of Your Audience
In a Certificate in Digital Marketing you will learn, crucially, that the trust of consumers can be gained on Facebook and Twitter by brands. Individuals are attracted online to exchange information and receive social support when making business decisions. Interaction with social media pages and content thus performs an important function in an individual buyer's journey.
In fact, consumers are actively encouraged by firms to converse about their brand online as these activities produce electronic word-of-mouth (WOM). This WOM, produced through social media, helps and greatly influences consumers in their purchasing decisions.
Robinson (2013) developed an online panel survey to model the incremental value of a fan of Bulmers' Facebook page. According to Robinson's (2013: 11) findings, UK Bulmers Facebook fans were worth £3.82 more a week or £199 per year – around 38% more than the control sample. Gaining the trust of your social media following is of paramount importance to brands.
According to Smith's (2013: 1) study, 64% of people who report experiencing strong positive emotions on brand pages also report they are likely to do an advocacy action or purchase funnel action. Conceptualised in this way, we can understand that content on social media forms an important facet of external interaction with a target audience.
Social Media: Its Place and Weaknesses
It is necessary to understand that a brand's presence on social media is one of many interfaces consumers have with the business. For this reason it would be wrong to assume that social media is replacing old media, particularly in traditional industries. Instead, social media is there for marketers to amplify the rest of their online and offline marketing mix.
The measurement of social media marketing campaigns is a considerable point of contention within the marketing discipline. Calculating and understanding the value of user activity on social media networks is a multi-metric, multi-methodology endeavour. Consequentially, there is a considerable amount of disagreement over what metrics brands should be tracking and trying to understand on Facebook and Twitter.
Conclusion
By mastering social media in a digital marketing course one quickly learns that the application, consolidation and proper use of social media is important, damn important. The time is nigh brands, the time is nigh.
Want to learn more about digital marketing courses? Our Certificate in Digital Marketing (Level 8) provides a comprehensive overview of the best-practices for both Facebook and Google advertising. In NCI's Digital Marketing course, you'll learn the ins and outs of search (SEO and SEM), email, social media, mobile marketing, strategy and planning from digital marketing experts currently working in the area. If you enjoyed this piece you'll love our post on Facebook Atlas and the effect that it will have on digital marketing.
Student Testimonial: George Hannan
"Thank you NCI for everything during the Digital Marketing course - I very much enjoyed participating and certainly learned a lot. Eva's input and encouragement was great. The interesting thing is that the course seems like more of a 'beginning' than an end - there are loads of aspects I plan to keep chipping away at and hopefully develop further."
Student Testimonial: Patrick Hamilton-Walsh
Questions? Feedback? Leave us a comment below. All commenters on NCI's blog get added to a raffle, to win a weekend away!