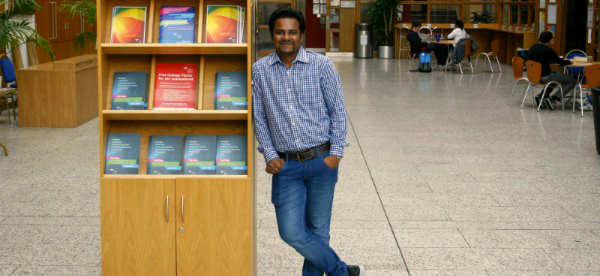 Akshay from India has quickly settled into Irish life. In fact, he is now becoming a little bit Irish himself – "Personally, I much prefer Irish customs, music, and literature". Akshay is embracing Irish life: rugby, for example, has caught his eye. "I loved having to learn its set of rules as it indirectly makes sport much more interesting". Now an enthusiast of the Irish daily routine, Akshay believes he is already benefitting enormously by studying in Europe.
Akshay is a student of the MSc in Cloud Computing at National College of Ireland. Thus far he has found NCI's course content relevant and interesting as it mixes theory and practice. Akshay also chose this course as it suits his future professional goals.
"The course that I have selected at NCI is tailored as per industry standards. The professors at NCI are some of the best in the industry and they are also very knowledgeable about their field. With these learned professors, my class have become more and more interested in our subjects", he comments.
This style of education that NCI provides has helped Akshay's career enormously. "Professors at NCI help us in becoming skilled learners and trained employees," continues Akshay, "which is what employers are looking for nowadays." He also looks forward to taking full advantage of NCI's award-winning Careers and Opportunities Service which he hopes will allow him to secure a well-paid job.
Not only is Akshay getting to grips with the wonderful world of Cloud Computing, he is also bolstering his English communication skills while studying in Europe. As English is the primary language of communication at NCI, Akshay has had to be innovative when faced with new words or phrases. In fact, he has a favoured tactic when lost in translation while studying in Europe – "just rephrase the sentence" he says, "it makes English much easier in the long-run!"
Akshay feels he has settled very quickly into NCI as a result of the international society and the international peer mentor network. The international society arranged a number of activities for Akshay in his first two weeks here in Ireland while the international peer mentor network helped him understand the more complicated customs of Irish life. Now, fortunately, Ireland seems a lot less alien to Akshay, and studying in Europe is much easier to do as a result.

With NCI's well-equipped and state-of-the-art gym, SU recreation room, and, most importantly, library, Akshay has fully taken advantage of his college's facilities while studying in Europe. "The library in NCI is huge!" he says. "For me, huge does not mean having 2 floors of books upon books, but instead having easy and quality access to learning materials. The best thing about our library is that they we have e-books, which help us to access information from any location."
Interested in studying in Europe like Akshay? Then please visit our International Students page for more details, or read more about studying our MSc in Cloud Computing Full-Time at National College of Ireland.
Are you a Cloud Computing whiz? Then you'll love our article on The Internet of Things.
Hear From Other International Students About Studying in Ireland: