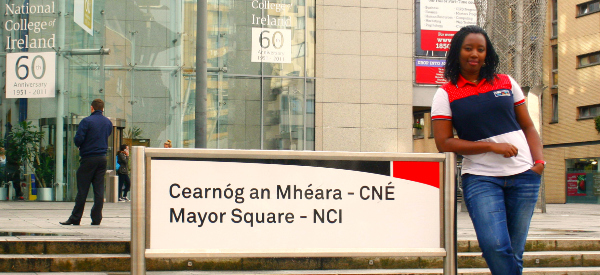 What's the best thing about studying in NCI? Well, for Okwori it's "the welcoming environment, definitely." She jovially notes that NCI has been referred to as the 'college without walls'. But for Okwori, it is a case of actually coming to NCI and experiencing this transparency. Studying in Europe, for Okwori, has been a very welcoming experience.
Okwori Gloria, a citizen of Nigeria, is studying the MA in Human Resource Management in NCI for the past few months, and boy is she enjoying it.

NCI's International Peer Mentors Programme has further encouraged Okwori to integrate into Irish society. The best aspect of this helpful function that NCI provides is information sharing – the international peer mentors tell the group about discounts, deals, events and life hacks on these boards.
Studying in Europe, and in particular NCI, has improved Okwori's employability substantially in a number of different ways:

"Firstly, while studying in Europe I am welcome to work in Ireland. Secondly, the Career Development and Employability Service has been of great help with my career, showing me how to prepare a CV and advising me on how to job search".

But wait! Okwori never forgets to say thank you – "Kate Coughlan, my Career Advisor, thank you – you're one in a million!"

Studying abroad is not necessarily a purely academic affair for Okwori, her social life is of the utmost importance. For this reason she has taken full advantage of NCI's SU while studying in Europe as they are there for social, emotional and academic support while studying abroad. "Kudos guys and girls," Okwori exclaims, "keep the flag flying!"

Okwori has found Irish dancing to be a charming cultural phenomenon. Despite it being a little difficult (and a little scary) she said "Hey! What the heck! Just do it anyway!" And she did. Luckily, Okwori didn't break her neck but she did have a bad case of sore muscles. Anything can happen while in Europe!
Interested in studying abroad like Okwori? Then please visit our International Page for more details, or read more about studying the MA in Human Resource Management at National College of Ireland.
Did you find this story interesting? If so, check out Studying in Europe: Kelly Suenny Martins
Questions? Feedback? Leave us a comment below. All commenters on NCI's blog get added to a raffle, to win a weekend away!