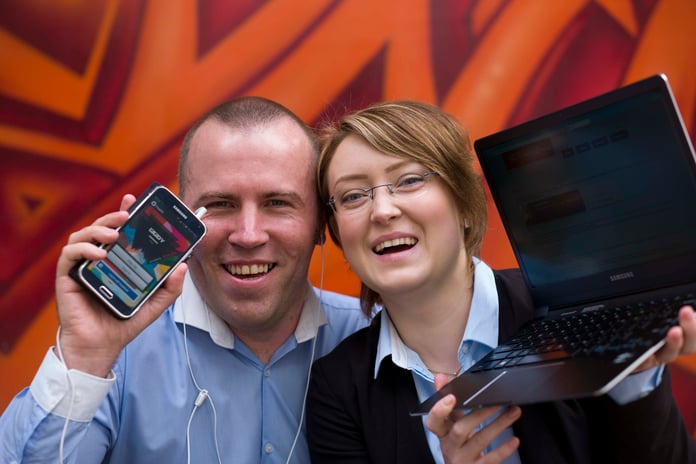 Final-year computing students at National College of Ireland showcased their work to potential employers last week, with projects ranging from a real-time virtual fitness trainer to cloud based payroll and banking applications, and a mobile app that will make life easier for craft beer drinkers to order in their favourite pubs! Read what the Irish Tech News, Irish Examiner and Digital Times had to say about this year's event.

Employers from companies including Microsoft, Oracle, CR2, the Web Summit and Citigroup all attended and a number of awards were presented on the day, including the Employers Choice for Best Project Award which went to Wayne Rochford, a student of NCI's BSc (Hons) in Computing.

Eoin McMahon and Patrick Byrne, who also studied the BSc (Hons) Computing, won awards for their work, as did Ancuta Chira from NCI's BA (Hons) Technology Management and Irvine Ferris, a student of the BSc (Hons) Business Information Systems Part Time

Patrick's project, a mobile app called Gigidy, uses GPS technology to provide a list of music events in any area throughout the world. It also facilitates interested parties in contacting or meeting each other before events, and will automatically provide details of suitable places to meet nearby.

Patrick said, "Over the last number of years I have seen a massive shift in how people socially interact with each other. People appear to rely heavily on the web and more specifically social media applications in order to meet new people. With this in mind, I decided to build a mobile application that allows people around the world to come together and create social gatherings using the medium of live music".

Patrick has recently accepted a Project Consultant role with a software engineering firm in Dublin but also has hopes to further develop the application with the aim of eventually bringing it to the market place.

Ancuta's project was an educational resource which walks people through the development of a website with Adobe DreamWeaver. Ancuta, in the last year of the BA in Technology Management at NCI, developed the project as a training resource for small businesses. She said, "I wanted to create something genuinely useful; the site offers full training on how to develop a website from start to finish by watching instructional videos, accessing PDF file notes and quizzes to assess learners performance."

Pramod Pathak, Dean of the School of Computing at National College of Ireland, said:
"The computing industry in Ireland is facing significant demand for specific ICT skills and today's event highlights that our graduating class are more than equipped to provide the technical talent that employers require. The quality and diversity of the projects on display represent not only commercial potential, but also the best calling card for our students."

Caroline Kennedy, Careers and Opportunities Officer at NCI, added:
"The focus of the NCI Careers team is employability and we work closely with students and employers to ensure our graduates will meet the needs of industry. Computing skills continue to be in high demand and NCI is being very proactive to help fill this void. The number of employers present today and the fantastic breadth and scope of the work on display shows that NCI computing grads continue to be in high demand."
The School of Computing continues to grow and develop, with recent announcements of its involvement in two major IT Research Projects funded by the European Commission. The college is also working with Amazon on the Amazon Web Service Beta Programme for Education which was launched earlier this month.

A number of courses in NCI's School of Computing are available for free under the Government's Springboard initiative for Higher Education, in areas including data analytics, web/mobile technologies, digital marketing, cloud computing and more.
Questions? Feedback? Leave us a comment below.