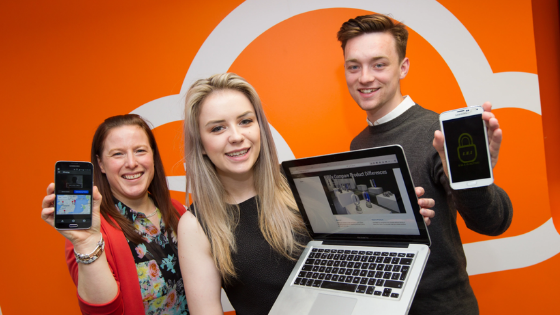 Final year students at National College of Ireland recently showcased their work to potential employers, at this year's computing project showcase. Employers from companies including Groupon, AOL, SAP, Betbright and Citigroup flocked to NCI's Dublin city-centre campus to check out the best in graduate talent.
Graduate employers were spoiled for choice on the day with projects ranging from an online management system for dog groomers to a 3D action adventure game.
Natalie Edward, who studied NCI's BSc Honours in Computing and specialised in Networks and Mobile Technologies designed an app to assist in the search and location of a missing person through public interaction and contribution.
Natalie, who designed the app in response to the increasing number of missing person cases in Ireland, said: "There has been a significant increase in the number of people going missing in Ireland. It's an issue that isn't going away, so I wanted to develop a mobile application which addressed this and provided a platform for the public to contribute to the search. It was important for me to embrace new technologies to achieve this."
Wayne Flanagan, who previously worked in construction before returning to education developed Cloud strAPP, an alternative method for educational institutes to deliver application virtualization to students.
Wayne, who is in his last year of the BSc in computing at NCI, developed the project to simplify the user experience and take the pain out of using virtualized applications for students.
He said, "With Cloud StrApp I wanted to provide an alternative method for the access and delivery of virtualised applications to students while enabling them to benefit from reduced personal hardware costs. The key aim is to demonstrate to employers the skills I have developed to date from my time at NCI." Wayne plans put his project on hold as he actively pursues a career in software development, but he has not ruled developing his idea in the near future.
Another project which attracted considerable interest from employers on the day was Roadie, a comprehensive website and mobile application that allows musicians and entertainers to create, save and edit their set lists and event information.
This was designed and developed by Corrina Wynne - who will start work in Version 1 next month - and who said, "While technology is very common in the music and events industry today, sometimes the basics are overlooked. That's why I decided to develop Roadie, which allows performers to organise the most vital aspect of their event - their songs and setlists".
Caroline Kennedy, Careers and Opportunities Officer at NCI, was delighted with the abundance of employers who turned up on the day and commented:
"The focus of the NCI Careers team is employability and we work closely with students and employers to ensure our graduates will meet the needs of industry. Computing skills continue to be in high demand and NCI is being very proactive to help fill this void. The number of employers present today and the fantastic breadth and scope of the work on display shows that NCI computing grads continue to be in high demand. "
The School of Computing continues to grow and develop, with recent additions of an MSc in Fintech and an MSc in Cybersecurity. In addition to this, a number of courses in NCI's School of Computing are also available in areas including data analytics, web/mobile technologies, digital marketing which can be found here.
Questions? Feedback? Leave us a comment below. All commenters on NCI's blog get added to a raffle, to win a weekend away!