Annual Discover University programme concludes at NCI
Read about Discover University on the Irish Independent (last item) or The Journal, listen to the interview on Dublin City FM or check out the pictures on the NCI Facebook page.
While their peers enjoy the sunshine, more than 40 young people have been working throughout the summer on tech and enterprise projects at National College of Ireland.

As part of Discover University 2014, the young people worked with staff, faculty and students from NCI on group projects – to create their own app, or make and sell citrus drinks.
This annual week-long college taster programme, run by the Early Learning Initiative at NCI, brings together Dublin teens (14-17 years old) from disadvantaged communities across Dublin: this year's participants come from Dublin's Docklands, Ballymun and Stoneybatter. The purpose of the programme is to give teens from historically disadvantaged communities a real feel for what life is like in higher education.

Both groups presented their products to the public at stands across the Dublin Docklands. They will also showcase their work at an event with the Lord Mayor of Dublin, Christy Burke.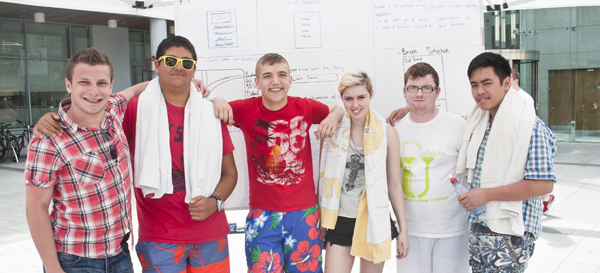 The Tech groups (some of whom are pictured above), worked on an App challenge - projects included a price comparison app for Dublin sports-stores, a beach comparison app which considers weather and facilities and, capitalising on World Cup madness, an app to compare the cost of international football jerseys in nearby stores.

Frances Sheridan, Lecturer in NCI's School of Computing, said:

"The aims of the App Challenge are to harness the young people's innovation and creativity while at the same time developing their computing skills.

In a broader sense the aim of the programme as a whole is to raise the educational and career expectations of the young people - while enabling them to develop the critical thinking, learning, interpersonal and communication skills that they will need to achieve those expectations."

The Enterprise groups have sold glasses of homemade citrus drinks to the public, at various locations in the Dublin Docklands. Participants in this group have learned how to set goals, create budgets, secure investors, select a site, purchase supplies, serve customers, make a profit and repay investors. For many involved, this has been their first experience of these life lessons.

Brigina O'Riordan, co-ordinator of the project at National College of Ireland, commented:

"Many of the young people came through the doors of NCI and indeed any third level institution for the first time in their lives this week, and left with the knowledge that third level education is fun, interesting and, most importantly, a very real option for them."
Find out what life is like at NCI with NCISU's Top Ten Tips for College Life - we're sure it'll help you get to know your way around.
Questions? Feedback? Leave us a comment below. All commenters on NCI's blog get added to a raffle, to win a weekend away!