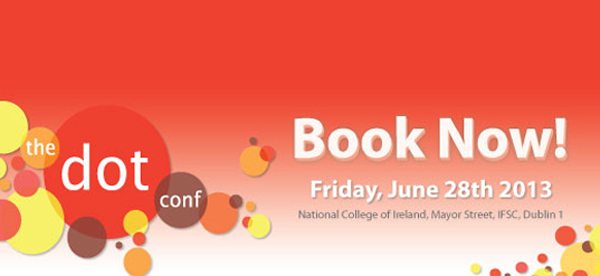 Anticipation and excitement are growing here at NCI, as the dot conf rapidly approaches!
We've been running this one day digital event for the past four years, aimed at anyone who works, rests or plays online.
It's happening this year on June 28th, here at NCI's city centre campus in Dublin's IFSC. We look forward to welcoming Ireland's internet community through our doors once again – the event attracts everyone from start-ups to students, digital marketers, developers, designers, software architects, educators and more.
So, why do we run the dot conf at National College of Ireland? Here's what Rob Ward, our Director of Student Recruitment, had to say:
"Ireland's online community is full of hard-working and talented people who deserve a place to come together offline, discuss their work and stay on top of new issues, technology and techniques. Since 2010, the dot conf has provided exactly that, and a whole heap of fun besides."
The speakers line up is always entertaining, eclectic yet balanced – this year it includes James Whelton, co-founder of the Coder Dojo movement of coding clubs, Claire Redmond of the Football Association of Ireland and Andrea Magnorsky, Co-Founder at BatCat Games. Check out the rest of our speakers here.
Social media campaigner Jon Morter, who helped Rage Against The Machine get to the UK Christmas No.1 spot in 2009, will also speak at the event. His campaign not only outsold the previously unbeatable X Factor Christmas single, but broke a Guinness world record and raised more than £160,000 for charity in the process. Jon is also the creator of the Condescending Corporate Brand page on Facebook, a how-not-to for big brands online.
Booking is now open at www.thedotconf.wordpress.com; a booking fee of €10 applies. You can also follow the event on twitter for the latest news and updates.
Questions? Feedback? Leave us a comment below. All commenters on NCI's blog get added to a raffle, to win a weekend away!