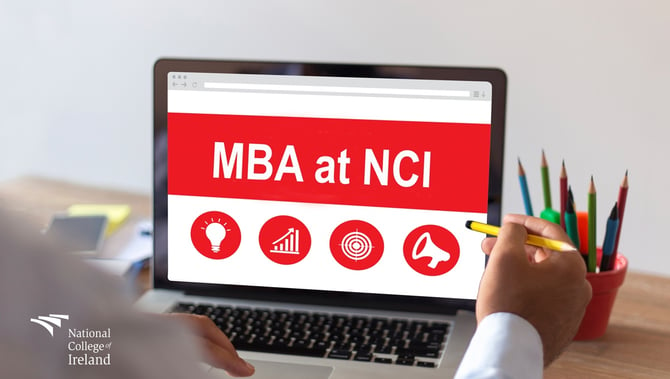 It's a common experience in Ireland, when asking for directions how to get somewhere, to receive the response "Well, I wouldn't start from here".
Many potential candidates rule themselves out of considering an MBA because they think they are in the wrong starting place.
"I've been out of school too long, I wouldn't fit in a college environment"
Or
"I can't afford it."
Or
"My working life is already so busy – I don't have time to study too"
The reality is, if you want to achieve your career goals, you have to start from where you are now, even if it doesn't feel like the ideal place.
If you have questions about studying the MBA with us, come to our Taste of an MBA event from 6pm to 8pm on Thursday 15th August to attend a mini lecture and meet current students and graduates:
So let's tackle these 3 reasons not to do an MBA


"I've been out of school too long, I wouldn't fit into a college environment"
Actually, you need to have been out of school for at least three years to fit in to an MBA classroom!
Work experience is an essential requirement for acceptance on to an MBA course. In fact, while an honours degree is generally needed to qualify for an MBA, extensive professional experience can override this requirement, through RPEL (recognition of prior experiential learning).
At NCI, the age range for our MBA course is 27 to 53 years old. The people you meet on an MBA course are people like you: they are good at what they do and they work hard - but they also work smart. They know that an MBA will help them realise their ambitions.
"I can't afford it at this point in time."
When the thought of an MBA first starts to appear on your horizon, a number of logistical challenges will present themselves. Cost will be one of them. Just as location, class size and class schedule varies from school to school, so does cost.
At NCI, the cost of a part-time MBA, taught in the evenings over two years, is €12,750 – a very competitive fee, but an undeniable chunk of change. However, you're not paying this all in one go. A direct debit schedule can be arranged so that, each year, you make a once-off payment of €1,275, followed by ten monthly instalments of €510.
An MBA is an investment that is consistently shown to pay off in terms of the kind of role open to graduates and their salary level.
Check out our '10 signs you're ready for an MBA' and if you find yourself ticking all the boxes, maybe it's time that you made this investment in yourself.
"My working life is already so busy – I don't have time to study too."
Earning an MBA is no walk in the park, but the smaller class structure at NCI and stronger engagement with lecturers are there to support you.
At NCI, the MBA is taught in the evenings, with no block-release from work required, so you don't have to look for unpaid leave or commit all your annual leave to study.
You should check with your employer: most employers encourage further education and have an allowance of study days – some even part- or fully-fund industry-relevant qualifications like an MBA.
Part of the motivation for doing an MBA is the opportunity to move on to bigger-picture roles, where the hard work you put in can have greater impact.
This is a perfect chance to flex those management skills and draw up a SWOT – Strengths, Weaknesses, Opportunities and Threats – to take a strategic approach to planning your career trajectory.