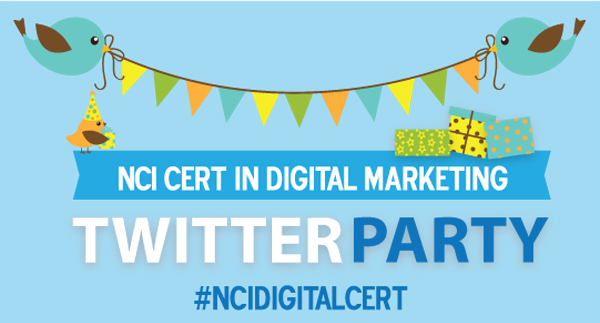 Win prizes, chat to lecturers, hear everything you need to know about the Certificate in Digital Marketing, all through twitter!
To celebrate the next intake of NCI's Cert in Digital Marketing, and to answer any final questions you might have about the course, we're having a little gathering online. We'll have some of our kickass lecturers available for chats, and some past students will be on-hand to share their experiences of the course.
We'll also have all sorts of amazing prizes to give away, the biggest, best and most exciting being a free place on our digital marketing course* (worth €1990). This kicks off on February 12th and will run on two evenings a week, Wednesdays and Fridays, from 6.30 to 9.30pm. We'll have lots of other prizes too; here's how to get in on the action:
Follow us on Twitter (@NCIRL and @NCIRLDigital)
Use the hashtag #ncidigitalcert to enter the competitions, ask questions, give us feedback on the course if you're a past student; retweets to your followers would also be greatly appreciated.
To be in with a chance to win the FREE PLACE*, tweet 'I want to study @NCIRLDigital in Dublin with the hashtag #ncidigitalcert'
Grab yourself a cuppa before the party starts and get tweeting from 11am!
Here's what you could win by taking part!
Free place on NCI's level 8 Certificate in Digital Marketing (start date of February 12th only)
€75 voucher for Carphone Warehouse for most active tweeter at the party
€75 voucher for Carphone Warehouse for best tweet from a previous student
€50 voucher for Milanos for best relevant tweet
€50 voucher for Milanos for best question about the course
Spot prizes of wine, phone covers, screen protectors and more!
Read more about our
Certificate in Digital Marketing
or watch our
short video
to find out why you should do this course!
*The competitions are open to those resident on the island of Ireland and who are over 18 only. The free place on NCI's Cert in Digital Marketing applies to the Feb 12th 2014 start date only. It is available to those who meet the entry requirements and who have not already applied for a place on the course.
Questions? Feedback? Leave us a comment below. All commenters on NCI's blog get added to a raffle, to win a weekend away!