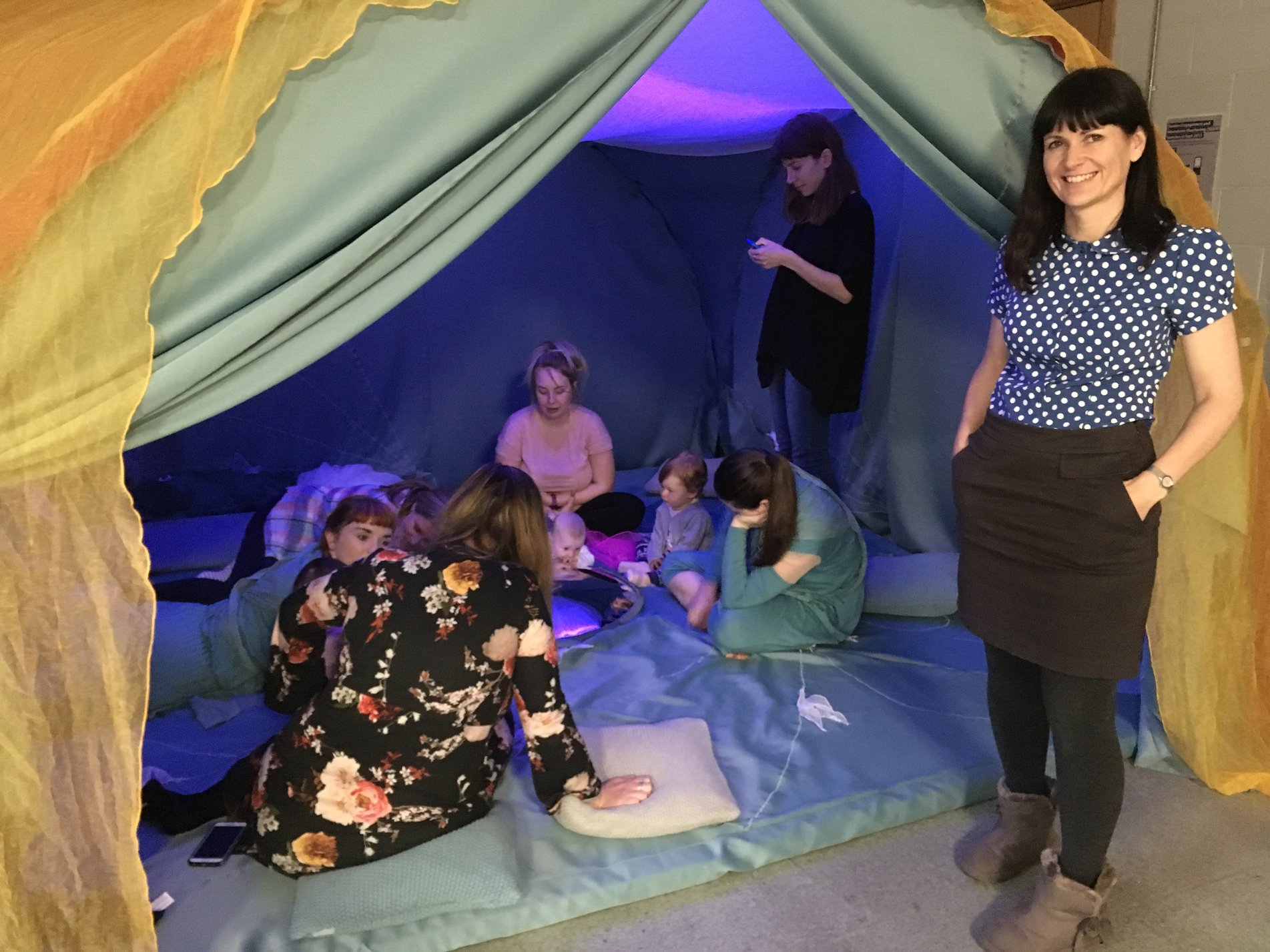 What: INCY WINCY, a theatre adventure for babies aged 0-12 months created by Anna Newell
Where: The Lab, Foley Street, Dublin 1
When: Saturday November 18th
Why: The Katherine Howard Foundation gives babies the opportunity to bring one guest each to this performance, free of charge, in celebration of Universal Children's Day
The Early Learning Initiative (ELI) at National College of Ireland recently hosted a gentle theatre adventure for babies aged 0-12 months, created by Anna Newell. Families who participate in ELI's Area Based Childhood (ABC) Programme were especially invited to attend.
I AM BABA was commissioned under Exploring and Thinking: A Collaborative Framework for Early Childhood Arts in the Dublin region – an initiative generated in partnership by Fingal County Council, Dublin City Council, South Dublin County Council and DLR County Council – and presented in association with the Civic Theatre whose Ready, Steady, Show! Early Years initiative funded the creation of INCY WINCY – a new show, which will be performed on Saturday November 18th at The Lab on Foley Street. Tickets are free, thanks to the Katherine Howard Foundation, to mark Universal Children's Day.
"I AM BABA was a transfixing experience for both the babies and the adults caring for them. It was genuinely magical. I'm grateful to Liz Coman of Dublin City Council for helping to bring I AM BABA to NCI", said Director of ELI, Josephine Bleach.
"Thanks to Francis Chance from the Katherine Howard Foundation, the families we work with have a second chance to share a high quality, sense-stimulating, engaging and absorbing time with their little ones. We are delighted to take part in the foundation's celebrations of Universal Children's Day 2017 by attending Anna's new show INCY WINCY."
INCY WINCY is a multi-sensory adventure for babies aged 0-12 months based around the nursery rhyme 'Incy wincy spider', with original music by award-winning composer David Goodall. It is a short piece, lasting 15 minutes, which makes it ideal for any parent not quite sure how their baby will respond. Each ticket is for one baby and their adult guest – however, there are a limited number of observer tickets available for each performance also, if you don't have a baby to bring you along.
With one performance already booked out for NCI's ABC Programme, you can secure your free tickets for the remaining four performances on the Eventbrite page.
Questions? Feedback? Leave us a comment below.