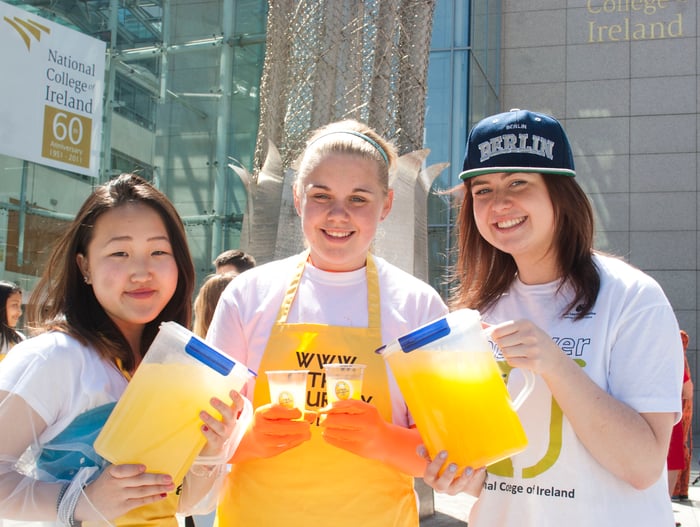 37 young people, from communities including the Dublin Docklands and Ballymun, have been working throughout the summer on tech and enterprise projects at National College of Ireland. They have also been experiencing taster classes, industry visits and more as part of NCI's annual college taster programme, Discover University.
Run by the Early Learning Initiative at NCI, the purpose of the programme is to give teens from historically disadvantaged communities a real feel for what life is like in higher education.
Lucy Kinghan, co-ordinator of the project, commented:
"Raising young people's educational and career aspirations is a key element of all of the Early Learning Initiative's Programmes. It is also an integral part of the part of the National College of Ireland's mission to widen participation in higher education and unlock each student's potential.
Discover University was developed in response to requests from local second level schools in the Docklands, who wished to prepare their students for third level. The programme was designed to provide students with high-quality learning experiences that would encourage them to strive for the qualifications needed for a place in a third college. It would also enable the students to develop a positive set of attitudes, learning dispositions and skills that would support them at both second and third level.
It is hoped that the participants in the programme will be motivated to achieve their goals at second level and move on to the third level course of their choice."
One group took part in a 3D Printing project with NCI's School of Computing, where they learnt about the basics of 3D Modelling and Printing – as well as sales and digital marketing. Industry representatives gave the young people a set of requirements for the challenge, and the group created and presented a prototype of their product.
The second group focused on business, selling glasses of homemade citrus drinks at various locations in the Dublin Docklands. By taking part, the young people learned how to set goals, create budgets, secure investors, select a site, purchase supplies, serve customers, make a profit and repay investors. For many involved, this has been their first experience of these life lessons.
The project concludes with a showcase and graduation event, presided over by the Lord Mayor of Dublin, Christy Burke.
Want to know more about National College of Ireland? Check out our snazzy infographic or read these 6 reasons you should consider studying here at NCI!
Questions? Feedback? Leave us a comment below. All commenters on NCI's blog get added to a raffle, to win a weekend away!
Pictured: Gantsetseg Otgonsuren, Claire Byrne and Amy Caulfield from the Enterprise Group of NCI's Discover University programme