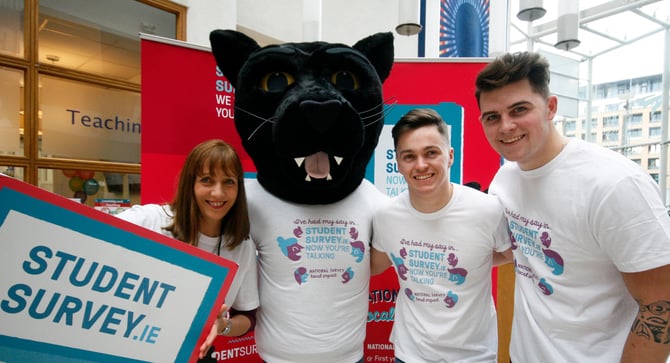 This year's Irish Survey of Student Engagement (ISSE) has gotten off to a flying start. Running from 6th February to 28th February here at National College of Ireland, almost 500 of our students have already had their say in the 2017 edition of this annual nationwide survey.
NCI president Gina Quin is particularly keen for our students to take part and she has been promoting the survey across the college. She says: "We are trying to increase our response rates this year to add more validity to the outcome and would ask faculty to encourage students to participate."
NCI Students' Union president Stephen Cleary and vice president Sean McMahon have also been lending a hand in promoting the survey, they clearly want the student voice to be heard. "As a thank you for student participation, we are offering a pair of tickets to the Clubs & Societies Awards Ball on 6th April 2017 to one participant, as well as printer vouchers worth €10 each to twenty other students who take part in the survey."
The first year undergraduate, final year undergraduate and taught postgraduate students who are receiving email invitations to take part in ISSE 2017 can also access their online survey here. All submissions are anonymous, but the feedback received is used by NCI and NCISU to inform decision-making.
Ultimately, the higher the response rate, the more representative that feedback will be of the student experience at NCI.
It is worth emphasising that this survey, now in its fourth year, is offering evidence that the higher education sector is listening and learning. But, while ISSE is a national survey, it also has local impact. Indeed, last year's NCI institutional report based on ISSE data – downloadable here – offers evidence in relation to what is working, but also regarding where there is room for improvement.
Our response rate is consistently around 20%, just below the national average, so NCI and NCISU are very keen to encourage those students receiving ISSE survey invitations to take part. Co-ordinated by NCI's Quality Assurance & Statistical Services team, people are welcome to contact them directly for more information via the QASS webpage or by email.