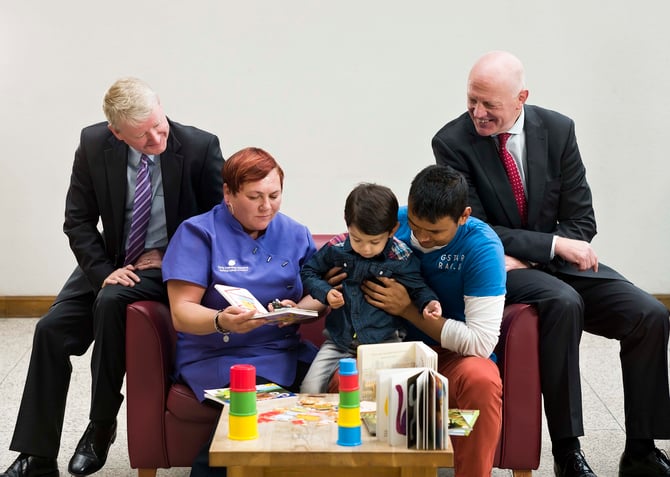 An Irish education programme that has been proven to help close the educational divide between richer and poorer families - the only one of its kind outside of the USA – is set to expand, thanks to support from Ireland's investment fund industry.
The Parent Child Home Programme, run by the Early Learning Initiative at National College of Ireland, has been awarded funding by basis.point, the Irish Fund Industry's charitable initiative to make a difference to those in need. Basis.point aims to make a sustainable and tangible difference to the lives of those living in poverty, particularly young people, by supporting eligible Irish charities which focus on education.
The funding of €75,000 over a two-year period will facilitate the expansion of the Parent Child Home Programme in Dublin's inner city. The grant will allow 25 additional families to be accepted to the programme, and an additional 4 home visitors to be trained and employed.
The Early Learning Initiative has successfully been running the programme in Ireland for the last nine years. The results are impressive: educationally disadvantaged children are now entering school and scoring above the norms of other middle class schools in English and Maths. Parents are more engaged in their children's development and learning is being perceived by children, young people and their extended families as enjoyable and something to be shared.
Announcing the grant, basis.point Chairman Adrian Waters said: "Basis.point is delighted to provide this multi-term grant to the Parent Child Home Programme of the Early Learning Initiative at National College of Ireland (NCI). This programme provides valuable early education intervention in areas of Dublin's inner city where many of our generous patrons and donors have based their international businesses. They are proud to encourage and support such a targeted and proven programme in the area of educational disadvantage."
Dr. Josephine Bleach, director of the Early Learning Initiative, said: "It's wonderful that the programme is being supported by basis.point and the Irish Funds industry. With their help we can work with more families to ensure that local children are ready for school, can progress through the system, go on to college and, if they choose, end up working for one of the financial companies they grew up surrounded by. It's about changing aspirations, getting real results and integrating the local community and the financial services industry in a true and meaningful way."
For more information or to donate to the Early Learning Initiative, call 1850 221 721 or watch this short video on Leah's Story.
Pictured: Adrian Waters. Chairman, basis.point (far left) and NCI President Phillip Matthews (far right) with PCHP participant Adam, his father and home visitor.