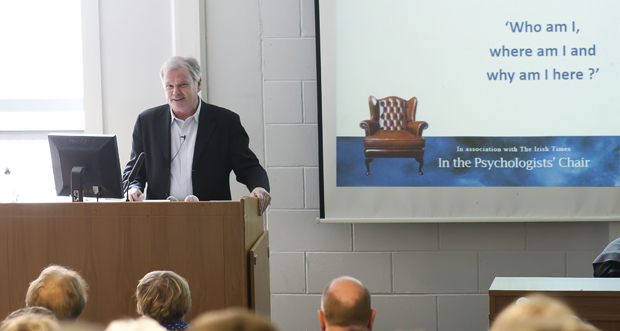 We didn't shy away from the big questions at the first event of the new series of In The Psychologists' Chair.

Dr Tony Bates, founder and CEO of Headstrong, The National Centre for Youth Mental Health, spoke to a full house on the topic of "Who am I, where am I, and why am I here?".

Drawing on Buddhist parables, poetry and his own extensive experience in working with young people, Dr Bates spoke on the importance of waking up and walking into our own life. Life is that constant losing and finding of your way, he said, and while suffering is inevitable, how we manage it is key.

"Beauty can awaken us, love can draw us out of ourselves, but it is more common for pain to wake us up; often our pain becomes a question we seek to answer throughout our lives", he said. "It is surprising how often the people who have lived with the greatest pain are also the most happy."
Run by the college in association with The Irish Times, the series is aimed at those with an interest in studying the human mind and behaviour, and shines a spotlight on the many and varied career paths which are open to students of psychology.

Covering topics like the psychology of homicidal behaviour, the effects of loneliness on the heart and how to apply psychology to education, the events are intended as taster sessions for the college's BA in Psychology.

The next event in the series is with Dr Louise McHugh on mindfulness and the self, on Thursday 12th March from 1-2pm. All events take place from 1-2 pm at NCI's campus on Mayor Street, Dublin 1; they are free to attend but attendees must register online to attend. (Can't make it along? Follow on Twitter with the hashtag #psychchair) The new part-time BA Hons in Psychology will be starting at NCI this September.
Questions? Feedback? Leave us a comment below. All commenters on NCI's blog get added to a raffle, to win a weekend away!