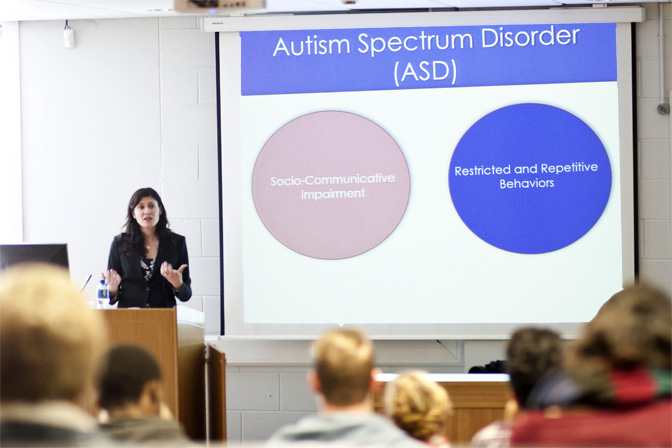 The NCI psychology department was delighted to host an international guest speaker at the college today with Dr Melissa Allen from Lancaster University giving a talk entitled Symbolic understanding of pictures in typical development and autism: divergent pathways? (Download the slides from the event here.)
Dr Allen noted that in typical development, children begin to appreciate the symbolic capacity of pictures by 18 months old. They appreciate that the picture is an object in itself but also a representation of something. By 30 months they can use pictures as a source of information about the world. Children on the autism spectrum often have some difficulties with symbolic play and pretense and tend to be very literal in their play. Dr Allen looked at several research studies she has conducted which looked at how children with ASD understand pictures. She found that typically developing children are able to generalise labels learned via pictures to the real objects, whereas children with ASD (Autism Spectrum Disorder) are more likely to form associative relations.

In another study she found that typically developing children use names or cues to interpret pictures but children with ASD are not using labels in the same way. In another study the researchers asked whether children follow an intentional or realism route to picture interpretation. In other words do they consider what the artist intended to draw or do they just look at what the object looks like. The study found that children with ASD tended to follow the more realist route whereas typically developing children follow an intentional one.

In general typically developing children understand the symbolic interaction between pictures, words and the objects they refer to. Children with ASD may be more "naïve realists" focusing on perceptual resemblance who evaluate pictures at face value and who have difficulty in using intent to reason about depictions.

In a lively and involved audience discussion the implications about this research for such things as PECS (Picture Exchange Communication System) and ABA (Applied Behavioural Analysis) for children with ASD were discussed.
This talk was part of the interdisciplinary conference on autism and language which took place at Trinity College. If you missed the event, or attended and would like to review the topics covered, you can download Dr. Allen's slides from her talk.

For more fascinating lectures at NCI, make sure you check out our current series of psychology talks; read about a recent session here.
Questions? Feedback? Leave us a comment below. All commenters on NCI's blog get added to a raffle, to win a weekend away!