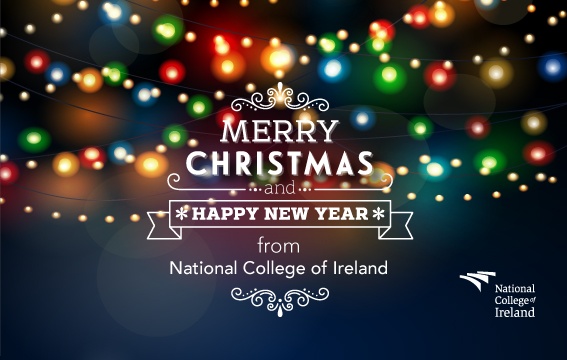 We've decked the halls, the carols are playing and the students have finished their second semester. Christmas is almost upon us once more, and all that's left is for us to wish all of our friends, students, alumni and the entire NCI community a very merry Christmas and a happy new year, and to thank you for your continued support.
This year, the college will close on December 22nd until 8.30am on January 3rd, when the library and all other departments will re-open.
As ever, if education features on your list of New Year resolutions, we'd love to help and we have a range of courses starting in early 2017, to help you achieve your goals.
These include digital marketing, HR, cybersecurity, fintech, and a range of free courses being offered under the Springboard initiative – browse the full list of January starting courses, or read these 10 reasons to start your studies in January.
There are also two information events in January where you can chat to us about your course options:
Wednesday 11th January 5-7pm (register your interest in attending)
Thursday 19th January 5-7pm (register your interest in attending)
Have a wonderful break, and we'll see you next year!