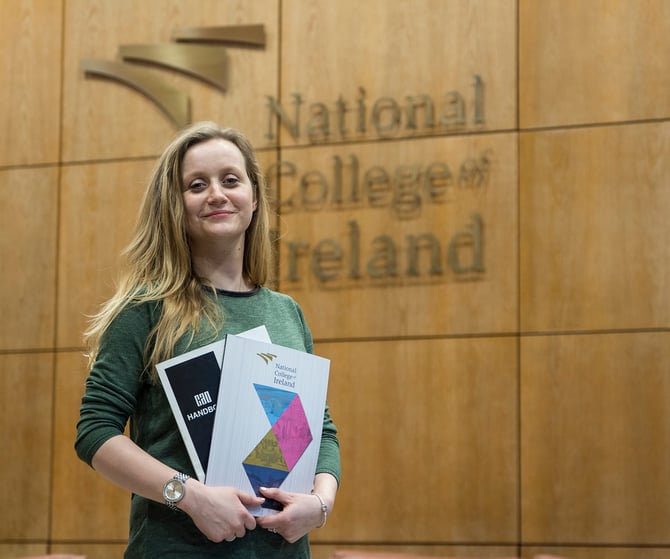 Last Saturday National College of Ireland's School Liaison Officer, Karen Campbell, was interviewed on Dublin City FM about CAO / third-level options. We put together some key points from the interview below.
If you're a student worried about not getting the point:
If you're looking for a level 8 course, see if the college offers a level 6 or 7 programme in the same subject, that allows you to progress to your level 8.

Or, maybe there is a PLC that has a level 5 or 6, and a progression path agreed with a college or university that will recognise the course content to allow you to enter into a level 8 – perhaps, they have an advanced entry agreement that will allow you to go straight into second year of the degree course.
It may take you a year or so longer than you'd expected, depending on the route you take, but if that degree is the one you really want, you must look at all the pathways to get there.
If fees are a big concern for you:
Most CAO courses are covered by the Free Fees Initiatives.
All non-private CAO courses may be covered by SUSI grants, depending on your personal eligibility.

If you're looking at a private college and paying fees, contact the Admissions Department of the College you're going to attend. They will tell you if they offer a payment plan, and issue you with deadlines for when the fees must be paid. Many colleges will offer instalment plans.
If you don't know how to differentiate between similar courses:
You need to dig into the module descriptions of the course and find out:
Is there a work placement?

Is there a specialisation?

Does it give you the experience you need to work in the area you're most interested in?

What is the graduate employment rate?
Be sure to listen to the full podcast from podcast from Dublin City FM and if you still have questions, please feel free to contact Karen at karen.campbell@ncirl.ie