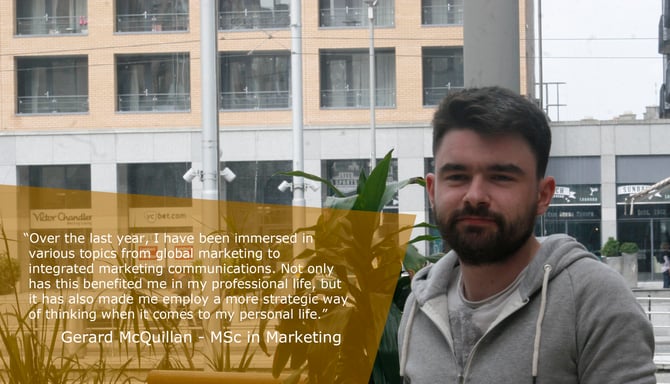 As a final year student on NCI's MSc in Marketing, I was initially cynical as to whether or not the course was for me. With a background in Public Relations, the thought of undertaking postgraduate study in an area in which I had little experience was a bit daunting. However, any notions of being underequipped were soon put to bed after the first few weeks. Through in-depth case studies on various marketing campaigns and organisations, I was soon up to scratch with marketing 101.
Marketing as a career choice was always something I was interested in and a master's degree has always been a personal aspiration. Now entering my final year, I have started researching potential topics for my dissertation - a decision which is proving quite difficult, given the many diverse and interesting topics under the general marketing umbrella.
Over the last year, I have been immersed in various topics from global marketing to integrated marketing communications, discovering everything from the role of culture in international marketing to the use of fear appeals in advertising. Not only has this benefited me in my professional life, but it has also made me employ a more strategic way of thinking when it comes to my personal life - whether that's pondering the real value of certain price promotions, or the rationale behind a promotional e-mail.
My peers on the course range from media buying agency account managers to in-house marketing executives for some of Ireland's biggest brands. Studying alongside a diverse group of people really adds to the overall learning experience. Having professionals who specialise in different areas of marketing, be it advertising, digital or media buying, means different perspectives are introduced to our in-class discussions.
Sure, I would be lying if I said that there aren't some evenings when I would rather be sitting in front of the TV after a long day's work, and not sitting in a classroom. Like anything that's worthwhile in life, studying the MSc in Marketing at NCI requires commitment. However, I am confident that this commitment will pay off, and I highly recommend the course if a career in marketing is what you aspire towards.
Questions? Feedback? Leave us a comment below. All commenters on NCI's blog get added to a raffle, to win a weekend away!