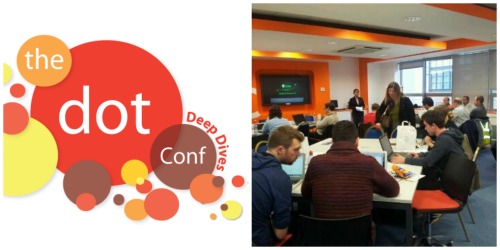 Check out the notes from NCI's web technology event series
NCI's dot conf deep dive series is a spin off from the one day web and technology conference that previously took place at the college. The deep dive workshops were always a popular part of the day and allowed attendees to pick up a few hands-on technical skills and to brush up on their knowledge of the latest web technologies and applications.
The new event series takes place in NCI's Cloud Competency Centre, created to support and strengthen the development of the cloud computing industry in Ireland and abroad. The Centre offers a number of courses including the MSc in Cloud Computing, Higher Diploma in Data Analytics (which are both now recruiting for a January start) and MSc in Web Technologies. It will soon be offering a Higher Diploma in Science in Cloud Computing and a Higher Diploma in Science in Computing Infrastructure.
The series is aimed primarily at the IT community and anyone with an interest in applying web technologies to their organisation. This includes: coders, developers, software architects, usability engineers, educators, bloggers, IT personnel and more.
Lecturers from NCI's School of Computing facilitate the events. Three sessions have happened in the current series which focused on XSS Hack Attacks, Amazon Web Services and Android. Notes from the series can be found below:
Save the date! The next event will be on February 5th from 1pm on the topic of 'Bitcoin - the new digital currency'. For booking information and details of further events, please make sure you are signed up to the NCI mailing list and you will be the first to hear! You can do this through the NCI website – check out the bottom right hand corner at www.ncirl.ie.
Questions? Feedback? Leave us a comment below.