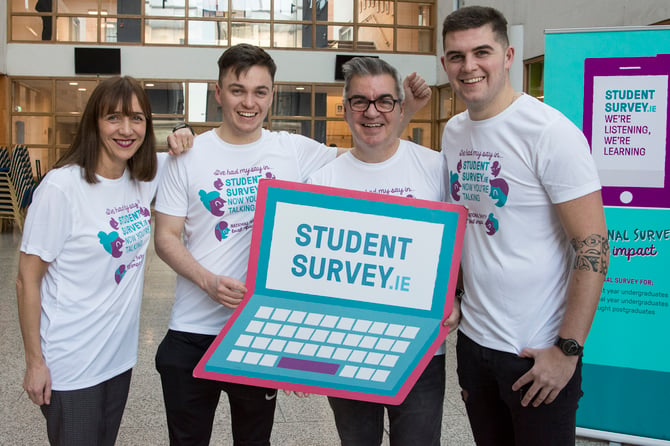 Are you in your first or final year of undergraduate studies or undertaking a taught postgraduate? Take the chance to have your say about your college experience and share your own approach to your studies: take the Irish Survey of Student Engagement now!
To show gratitude to those taking the time to participate in the survey, this year, NCI and NCISU are offering One4all gift cards worth €100 each to three NCI students who offer their feedback, in addition to printer credits worth €10 each to twenty others, as well as a number of other spot prizes to participants and those supporting the survey.
Joining NCISU president Stephen Cleary, NCI vice president Professor Jimmy Hill, and NCISU vice president Sean McMahon to celebrate the launch of this year's Irish Survey of Student Engagement, National College of Ireland president Gina Quin encouraged students to participate:
"Our students are our lifeblood. Students are partners with us, not just in their own education, but also in the vibrant life and culture of NCI. We want to hear your views: the more students who respond to the survey, the more impact on the future of NCI. Do make sure you have your say!"
Echoing these comments, NCISU president Stephen Cleary added:
"Student feedback is incredibly valuable. As is always the case with ISSE, it is given anonymously, so students can be honest and constructive in what they say. Student opinions make a real difference and the results from this survey are impacting positively here at NCI, as well as across the country."
Last year, the survey heard from almost 1 in 4 eligible NCI students. This year, to make ISSE 2018 more powerfully representative, the aim is to hear from more than 1,000 people.
Running from February 5th to February 25th, ISSE 2018 is co-ordinated by the Quality Assurance team at NCI. Now in its fifth year, ISSE is a valuable source of information for Higher Education Institutes. If you'd like to see the impact voicing your opinions can have, you can read NCI's most recent institutional report. You are also welcome to contact our QA colleagues directly for more details via the QA webpage or by email.
The message is a very simple one – 'we value your voice'.
Questions? Feedback? Leave us a comment below!