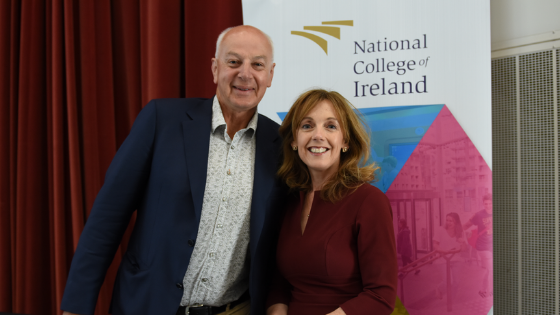 NCI's award-winning "In Conversation With" series returned this year, with entrepreneurs and business leaders from media, food and aviation leasing.
First to join Bobby Kerr at this live, lunchtime event was chairwoman of RTE, Moya Doherty. Doherty spoke about acting as her first love, so she took a secretarial role at RTE, in order to join the radio players. Because it was a fluid working place at the time, she was given the chance to be trained as a presenter. This kick-started a career that saw her become one of the founding directors of Today FM and of Tyrone Productions, as well as commissioning the most famous Eurovision interval act ever, and going on to co-found Riverdance. Doherty acknowledges that media is changing so much, it can be hard to identify the next challenges for the industry, but sees this as a fascinating time to be starting out.
"In so many ways, our models are outdated, and those who are in colleges like this will just come out and leapfrog all of us – because they will see the future." - Moya Doherty
Fellow dragon Alison Cowzer (pictured) was next up 'in conversation with' Bobby Kerr. The co-founder of East Coast Bakehouse spoke about having to tear up their business plan in the first week of production when Brexit was announced, and a focus on the Irish and UK biscuit market no longer looked like a winner. "We have now gone much more global in our geographical reach." Leaving school at 17 and going straight into employment, gradually working her way up through a range of PR and marketing firms, Cowzer had a lot of work experience under her belt when she suggested to her husband that they remortgage the house, so she could not work and attend college for a year instead – he supported her to study for her MBA.
"We moved to the UK and I walked into a job with L'Oréal that I could never have expected in a million years without the MBA." - Alison Cowzer
Finally, Dómhnal Slattery joined us here at NCI to bring us on his journey from the mailroom at GPA to CEO of Avolon, now the third largest aviation lessor in the world. He described his time at Guinness Peat Aviation, where he would collate the global information to make briefing packs for the famous 8am meetings, as an "accelerated MBA in aviation". A strong believer in the value of education, Slattery is using his connections in the aircraft leasing industry to build a foundation to provide schooling for children in the emerging world. At Avolon, he has also developed a long-term plan that will see every staff member, from receptionist to CEO, embarking on a three-year course with INSEAD because, he says, "if you want to retain the best talent in your business, you are going to have to continually stretch them intellectually."
"Continuing, lifelong learning is the way to go." - Dómhnal Slattery
If you missed this series as it happened, you still have the opportunity to listen back to Bobby Kerr 'in conversation with' Moya Doherty, Alison Cowzer, and Dómhnal Slattery, as broadcast on Newstalk's Down to Business.