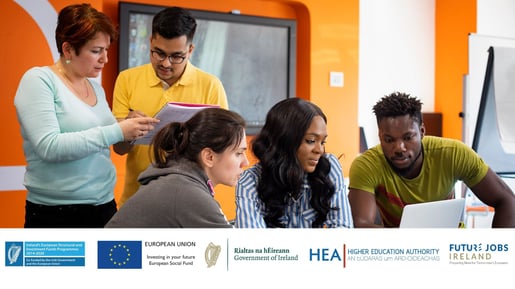 The Government recently announced 17,000 free and subsidised higher education places under both Springboard+ and Human Capital Initiative (HCI) which includes a number of specialised computing courses in data analytics, cybersecurity, cloud computing, software development, blockchain, artificial intelligence and machine learning at NCI.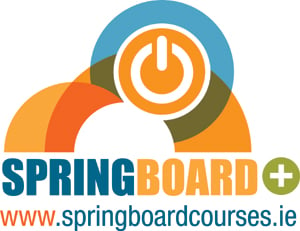 Combined with the new Human Capital Initiative (HCI) Pillar 1, Springboard+ offers courses for free or at a reduced cost to support those who wish to upskill or re-train in an area with skill shortages in the workforce. The courses are free of charge if you are unemployed and if you are currently employed then you only have to pay 10% of the course fee.
The technology industry is a desirable sector to join due to the demand for roles and skills in this area along with the capacity to earn a healthy salary. According to a Higher Education Outcomes Report released by the CSO last year, ICT graduates receive the highest weekly earnings five years after graduating compared to other sectors based on the analysis of the destinations of students who graduated between 2010 and 2016.
So, what courses will be available at NCI? The courses listed below are now open for applications:
Data Analytics
Software Development
Artificial Intelligence & Machine Learning
Blockchain
Cloud Computing
Cybersecurity
How to Apply
Before you apply for your chosen course, make sure that you have your education and employment details available as it will make the process easier although you will be able to save your application and access it at a later stage.
Register on the Springboard+ website
Click 'Apply Now' on your chosen course page
Enter your details in all the required fields on the form
When the form is complete, select apply
You can easily review the status of your application as you wait for it to be processed by logging into your account on the Springboard+ website. When your application is successful, you must accept it to confirm your place on the course. Visit the Springboard+ website to find out more about how to apply.
Eligibility Criteria
The following are eligible to apply for courses in 2020/21 academic year (subject to the applicant meeting all requirements, e.g. academic requirements):
Returners (formerly referred to as Homemakers): May apply to all courses if they meet the nationality/visa requirement and residency criteria
People in Employment: May apply to all courses if they meet the nationality/visa requirement and residency criteria.
The Unemployed or Formerly Self-employed: All courses are open to these categories of applicants, with the exception of the two-year part-time ICT conversion courses which are not open to those in receipt of a Jobseekers-related payment.
The eligibility criteria for Springboard+ and HCI courses is outlined in full on the Springboard+ website.
Online Sample Classes
We will be holding online sample classes which will allow you to get a taste of learning online. You will also be able to ask questions about the courses and applying through the Springboard+ website.
Higher Diploma in Science in Computing (all specialisations):
Higher Diploma in Science in Data Analytics:
Key Facts:
Course Fees: The courses are free if you are unemployed and 90% funded if you are in employment.
Online Option: Some of the courses are fully delivered online so you don't need to be based in Dublin to attend classes.
Evening Classes: Our Springboard+ and HCI courses are part-time with classes taking place in the evening time.
Limited Places: Each course has a limited number of funded places available, please refer to the deadline for each course on the Springboard+ website.
RPEL Scheme: If you're worried about the entry requirements, you may be able to apply through our Recognition of Prior Experiential Learning (RPEL) scheme. The scheme grants formal recognition of knowledge or experience that has been gained from work, life or previous study.
Entry Requirements: You don't necessarily need a technical background to study one of our Higher Diploma Springboard+ courses in computing but it would be helpful.
We are already looking forward to a new set of Springboard+ and HCI classes starting at NCI in September! If you have any questions about these courses, you can get in touch with our Springboard+ team and they will be able to answer any queries you have. You can also contact our Education and Training Advisor, Regina Dunne, if you want to discuss the best option for you.
Springboard+ is co-funded by the Government of Ireland and the European Social Fund as part of the ESF programme for employability, inclusion and learning 2014-2020.