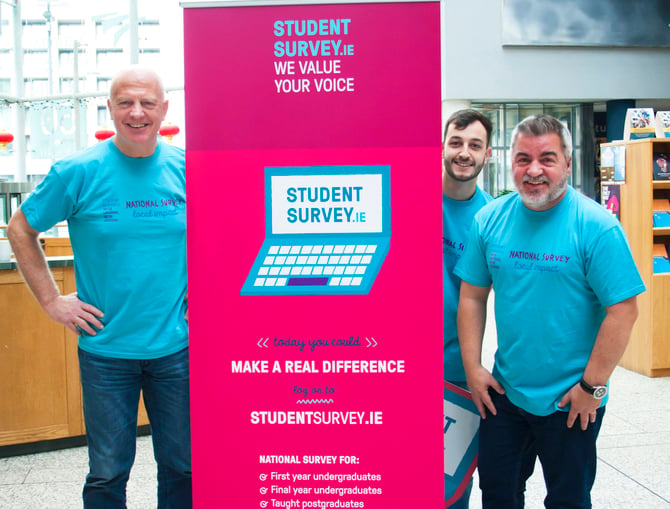 NCI President Dr Phillip Matthews, along with Vice President Prof. Jimmy Hill and NCISU President, Robert Rodrigues, all pictured above, are urging NCI students to take part in this year's Irish Survey of Student Engagement.
Now in its third year, the survey is a nationwide opportunity for first and final year undergraduate, as well as postgraduate taught, students to have their say about their college experience.
1 in every 5 eligible NCI students took the opportunity to provide feedback in 2014 and 2015, and we would love to see even greater numbers of you take part this year; the better the response rate, the more representative the results will be of the NCI student experience.

Remember, the purpose of the survey is to listen to your feedback on your experience of college. You have a major contribution to make. All entries remain anonymous and your opinion really makes a difference.

We're making it easy for you, too. Not only can you take the survey online here, but you will already have received an email invitation sent to your student mail account, and we will have a stand in the Atrium every day for the next three weeks.

If you have any questions around the survey, please feel free to contact Dr Maurice Fitzgerald, Quality Assurance & Statistical Services Officer, on Maurice.Fitzgerald@ncirl.ie.
Maurice, who is managing the project at NCI, said: "National College of Ireland, working in conjunction with the NCI Students' Union, takes its student feedback very seriously. This year's ISSE offers us another chance to build upon firm foundations, and to shape the future of education at NCI. Make sure you have your say!"
Questions? Feedback? Leave us a comment below. All commenters on NCI's blog get added to a raffle, to win a weekend away!