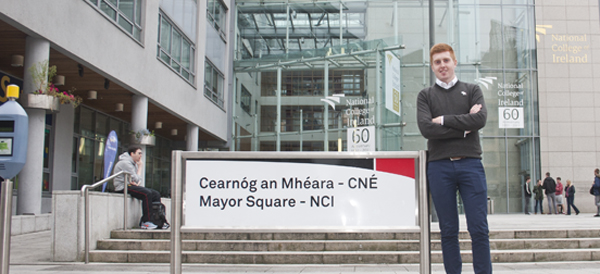 Do you want to start a career in Accounting and Finance? NCI can help!
Stephen Harford says that accountancy found him, rather than the other way about – and he's very happy that it did. The 21-year-old student from Balbriggan, North County Dublin, is in his final year of the BA in Business at National College of Ireland, and recently accepted a position with EY (formerly Ernst & Young) Ireland.
As Stephen progressed in his studies he discovered a natural affinity for numbers, and particularly enjoyed the accounting modules of his course. Having met EY at a gradireland event, he started to think seriously about accountancy as a career – and the NCI Careers Team were happy to help.
Stephen said: "I found it so helpful that the college had a strong relationship with EY; they invited them in to talk to us about the Internship Programme and I was able to get to know some of the recruiters, and get advice on the application process. NCI Careers and Opportunities Service team were a great support; they helped with my CV and assisted in putting together my LinkedIn profile, as well as preparing me for the interview."
As part of his paid summer internship with the firm, Stephen worked with the Financial Services Service Line and found it a very rewarding experience.
He said: "Apart from the work itself, which I found really interesting, I think the best thing about the internship was the people. There were 70 interns on my programme and we were treated so well by the company, from specific events that were organised right down to senior staff members going out of their way to advise us on our projects.
The internship gave me a fantastic opportunity to work with hardworking and ambitious people who, on a daily basis, carried out challenging work all whilst in a friendly and supportive environment. I was also excited by the prospect that this could lead to a rewarding career."
At the end of the programme, Stephen successfully interviewed for an Audit Associate position with EY's Insurance Department, and will take up the role in September on completion of his course.
He will share his experiences at the Insight into Accountancy event at NCI on Monday 29th September, speaking on the topic 'Life as a trainee accountant in a Big 4 firm'. The event, organised by the NCI Careers Office, will cover topics including 'Why choose Accountancy / Tax as a Career', and offer plenty of tips and advice on the application process, impressing at interviews and more.
Check out this short video for more on the Careers Service at NCI, or read more about studying accounting or business at National College of Ireland.
Questions? Feedback? Leave us a comment below. All commenters on NCI's blog get added to a raffle, to win a weekend away!