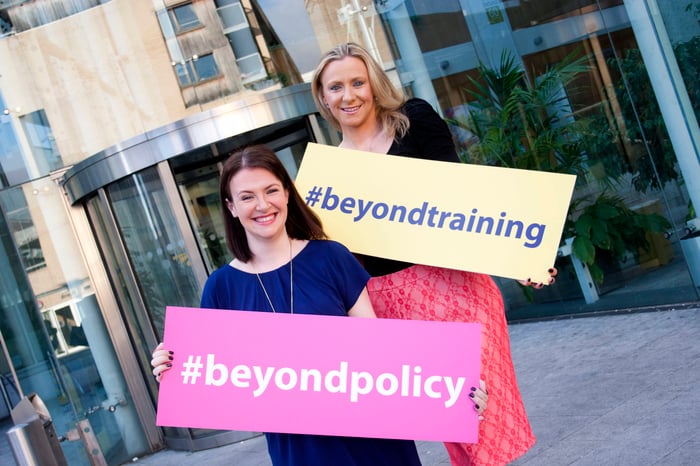 Pictured: Course leaders Sinead Matson (left) and Dr. Arlene Egan (right) at the launch of the new BA programmes
Last week was a big week for National College of Ireland, as we launched not one, but two, innovative new part-time degree courses that aim to go beyond training and beyond policy to create the educators – and the workforce - of the future.
The BA Honours in Adult and Workforce Education and BA Honours in Early Childhood Education address the growing interest in education at all stages of life and in all contexts.
Dr Leo Casey, Director of Learning and Teaching at NCI, said:
"We have an unusual situation in Ireland whereby technological advances, the digitisation of the workforce and powerful economic forces have dramatically impacted on so many of our industries. At the same time, other sectors are reporting thousands of jobs that they cannot fill.

While Government retraining initiatives like Springboard+ can play an important part in redressing this imbalance, we also need to re-examine ways we can boost our human capital and allow people to fully realise their potential.

More than ever we need skilled trainers and educators for the future but we also need new specialists with broader skills in workforce learning and development.

Ireland is full of potential, and NCI is intent on helping people ensure they realise theirs. Our uniquely human skills cannot be automated so we need to place more emphasis on developing these competencies, something that has not been sufficiently emphasised in training until now."
Distinct from other offerings on the market, what both new courses have in common is their part-time nature, flexible and modular structure, a built-in work placement and attractive fee structure. The application process grants formal recognition of knowledge or experience that has been gained from work, life or previous study – and both courses place specific emphasis on the competencies required in modern workforces, such as collaboration, problem solving, communications, and creativity.
Speaking at the breakfast launch at NCI's IFSC campus, Dr Leo Casey said:
"While the two courses are aimed at educators in very different sectors, early childhood actually has a lot to do with adult workforce learning and development when conceived beyond training and beyond policy.

Our courses have a shared emphasis on 21st-century skills and competencies and these traits – curiosity, creativity, collaboration – are actually formed in the nursery. Oddly enough, it's the natural behaviours we exhibit as children that we want adults to display when faced with complex situations."
About the BA Hons in Adult and Workforce Education
Commenting on the new BA Hons in Adult and Workforce Education, course director Dr Arlene Egan said:
"The emphasis on innovation in this new part-time course ensures that students both unleash their own potential, and learn to support others in developing talent and enabling performance.

The course provides our students with ample opportunities to try and test methods of collaboration, problem-solving and decision making, which are skills necessary for effective participation in 21st century work places. The course is designed to foster agile and flexible thinking as well as the skills that equip the student to take ownership of their own learning and development."
About the BA Hons in Early Childhood Education
National College of Ireland has a longstanding history in supporting early education intervention strategies through the college's Early Learning Initiative (ELI). The BA Hons in Early Childhood Education allows NCI the opportunity to build on the wealth of research and expertise in ELI and in turn, to offer its students the unique opportunity to access information about the current practice and exciting research happening on its very doorstep.
Sinead Matson, course leader for the BA Hons in Early Childhood Education, said:
"This new course aims to prepare the leaders and innovators of tomorrow to navigate and respond to the ever changing landscape of the early childhood care and education sector.

The sector needs playful leaders who will model play behaviours and playful enquiry-based learning for their staff and the children in their care. Leaders who will not only have the ability to articulate, in a professional manner, the benefits of play-based learning for children from birth to six years of age to parents and the inspectorate alike; but also design and implement a playful, enquiry-based curriculum using the national quality frameworks of Aistear and Siolta.

Modules such as 'Legislation and Regulation' and 'Introduction to Social Policy' are written to empower the learners, the professionals they will become and the children in their care. Each potential student will learn how they can effect change and take part in a National dialogue about the Early Childhood Education sector, how it is inspected, regulated and professionalised. They will learn not only that they can make a difference as educators, but how to do so."
NCI is now accepting expressions of interest in both courses. Contact aine.dilleen@ncirl.ie for more or come to our next open evening. The BA Hons in Adult and Workforce Education is a new part-time course for those in adult education, training and workforce development. The BA Hons in Early Childhood Education provides a path to competence and professional employment in early childhood education. Both are four year programmes which will run over two evenings per week, with some Saturdays.
You can also join the conversation on social media (check out our Facebook or Twitter accounts!), with the hashtags #beyondtraining and #beyondpolicy.
Questions? Feedback? Leave us a comment below. All commenters on NCI's blog get added to a raffle, to win a weekend away!