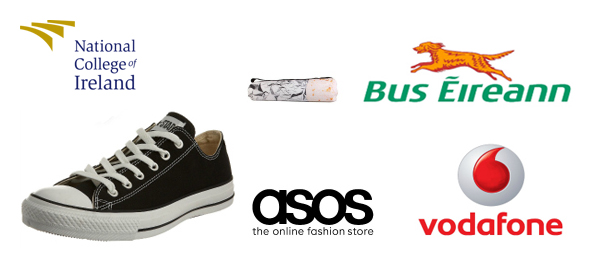 If you like bargain baseball boots, bus tickets and burritos, then read this article.
We all like discounts, don't we? I think that it's a given: a student's almost insatiable desire to save money and get value for their money - we're bargain hunters. And it makes sense, we're not earning the big bucks just yet and studying in Europe can be expensive.
This blog post pertains to what may only be called a life-hack which is a strategy or technique adopted in order to manage one's time, resources and daily activities in a more efficient way. And today we have a great life-hack for you students of colleges in Dublin – student discounts.
Here is our top 5 discount services for students of colleges in Dublin, and also NCI:
1. Your SU Card
Students can be lazy – that also is a given – so why not take advantage of the variety of great discounts available to NCI students in our immediate area.
Best discount: It's gotta be Burritos & Blues' €5.50 Burrito and a Can.
2. Campus.ie
Not only is the website of campus.ie very functional and easy to use, this student discount service wins the prize for the being the most multi-functional. It has offers from J1 Visas to Apple products to broadband services.
Best discount: 15% off your next pair of Converse sneakers.
3. Unidays
This is was a tough decision as Unidays provides students with discounts for a huge amount of offline and online clothes brand such as Asos, Topman and H&M. It's also super trendy and has a nifty blog for any and all fashionistas to digest. Be sure to check this one out.
Best discount: 10% off at asos.com – the store is so cheap anyway that this makes it even more affordable.
4. Student Card (studentcard.ie)
Like Campus.ie, Student Card has a variety of options available to the user, but it lacks the same sort of trendiness of its rivals - which explains why we put it in 4th place.
Best discount: For anyone who lives more than 10km away from Dublin, you can avail of serious discounts for Bus Eireann tickets.
5. Student Leap Card
Last but not least is the Student Leap Card. This is the Leap Card's cooler little cousin. Come on: we all take public transport and we all know it's getting more and more expensive. So get one of these cards and it'll take you around Dublin town and county for next-to-nothing.
Best discount: Monthly student discounts on phone bills are also available to Vodafone users who own a Student Leap Card.
Studying in Europe and studying in Dublin can be a costly deed. So National College of Ireland recommends reducing unnecessary, costly purchases with these student promotions and maybe one day, you will thank us.
If you enjoyed this article about studying in Dublin you may also enjoy Benjamin's blog post, "Studying in Europe: A Trip to Dublin Zoo", as part of a study abroad blogging initiative. Or why not have a read of Stress Management Tips for Students if you're feeling the heat while studying abroad.
Questions? Feedback? Leave us a comment below. All commenters on NCI's blog get added to a raffle, to win a weekend away!