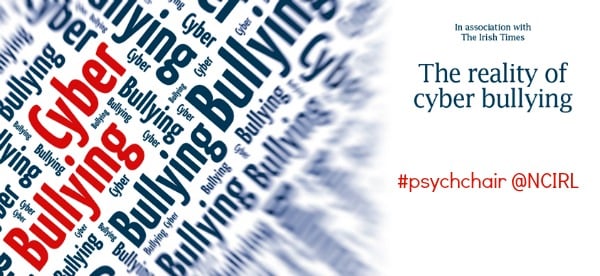 Dr Suzanne Guerin of the UCD School of Psychology was the latest guest speaker at NCI for 'In The Psychologists' Chair', a series of events with The Irish Times designed to showcase the many fascinating aspects and career options of this broad and far-reaching discipline. The series gives a great taste of what it's like to study psychology at National College of Ireland.
The topic, The Reality of Cyberbullying, looked at the challenges of research and methodology around this harmful behaviour. While the topic is very present in the media and in our social context, there are difficulties around defining something which is so rapidly changing and there are great differences in children's views and definitions of cyberbullying as opposed to those of adults.
Suzanne said, "Our awareness and understanding of traditional bullying has developed significantly over the past 30 years, supported by international research on the nature, prevalence and impact of these behaviours. However cyberbullying represents a much more recent phenomenon and, as a result, there is much to be learned about these behaviours.
One common question is whether cyberbullying is a unique behaviour in its own right or simply a new medium for bullying. In addition those working with and supporting children affected by cyberbullying require evidence-based programmes to prevent and tackle the behaviour."
Her talk considered recent international research on cyberbullying among children, reflecting on what it means for our understanding of the phenomenon and our ability to support children and young people involved in cyberbullying. School interventions, a problem-solving approach and skills training can all be helpful and Suzanne stressed the importance of a collaborative approach, with teachers, parents, school councils and pupils all working together to support and educate around the issue.
The series continues on 27th March with Professor Mark Shevlin and Dr Jamie Murphy University of Ulster Specialists in psychological trauma and mental health, on 27th March. The topic is Modelling Madness: the role of early adversity in the onset of psychotic experiences. Make sure you're signed up to our mailing list, via the bottom right hand corner of our homepage, to be the first to hear of this and other free events at NCI.
Read more about NCI's psychology courses in Dublin, including our 2 year Higher Diploma in Psychology or 3 year BA in Psychology, or check out the further events in this free-to-attend series, which all take place from 1-2pm at NCI's IFSC campus.
We have plenty of other interesting articles on psychology. So why not have a read of our chilling article on the Mindsets of Psychopaths.
Questions? Feedback? Leave us a comment below. All commenters on NCI's blog get added to a raffle, to win a weekend away!