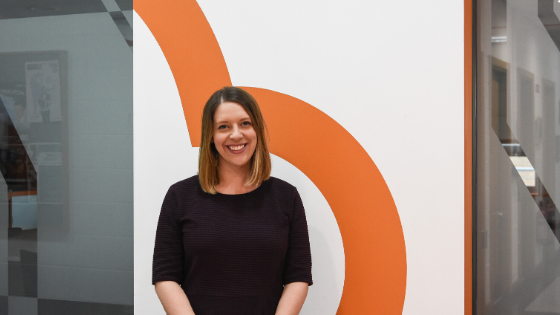 The 30% Club aims for better gender balance at all levels of organisations, and empowers women to take on leadership roles in many ways, including partnering with third-level institutes to promote women engaging at master's level.
National College of Ireland offers a 30% Club Scholarship to a qualifying woman for any of the masters' in our School of Computing studying on a full or part-time basis. At the launch of this initiative in 2017, president of NCI, Gina Quin, said: "NCI strives for gender balance. In particular, we recognise the need for more women in STEM. This 30% Club scholarship for one of our Master of Science programmes has the potential to place a woman at the cutting edge of emerging technologies such as cloud computing and cybersecurity."
Danielle Cunningham, originally from Chicago, was the recipient of last year's scholarship. She took time from preparing for her end-of-year exams to share her experiences at NCI, pursuing an MSc in Data Analytics.
"I've always been interested in data analytics and I deal with data every day in my career. To be fair, we all deal with some form of data every day! One of the main reasons I sought out further education was that I knew there were better ways to manage, manipulate and analyse data.
"When I moved to Ireland a year ago, I was eager to learn, expand my skill set, and take on something new. I discovered the 30% Club scholarship, researched the programmes at NCI, and decided to apply. I soon found myself in a dilemma, as I received a full-time job offer at the same time I was awarded the 30% Club scholarship. After discussing it with NCI and the course coordinators, I felt confident that I could handle both. NCI was accommodating as they allowed me to switch from the one-year, full-time programme and apply my scholarship to the two-year, part-time MSc in Data Analytics instead.
"I wouldn't say the course is easy: there are many challenges; but there are also lots of resources and support to help along the way. One of my favourite things is the diverse backgrounds and experiences that my classmates have. Everyone has knowledge of some topic on the course and is more than willing to help when you are stuck.
"It was an advantage for me that I have a strong maths background – but I had to work to fill the gap in my coding knowledge. I took some online boot camp classes before I started the programme, and they helped tremendously in understanding the foundations of coding.
"Self-discipline is important, especially for the part-time course, but with good time management, it is possible to do a full-time job, a part-time master's and still have a bit of time for fun."
Danielle, whose undergraduate degree from University of Illinois is in Economics and Anthropology, currently works in supply chain management. Her application for the 30% Club scholarship at NCI won her a chance to interview, and explain her motivation and desire for undertaking a master's in STEM.
Each MSc course in the School of Computing has different academic requirements. While not mandatory to undertake the MSc in Data Analytics, a background in coding is essential for some courses.
Carol Andrews, Founder and Lead of the Irish chapter of the 30% Club said: "The 30% Club works to achieve gender balance at all levels in business. Graduate management education and executive programmes act as important accelerators to career development and ultimately to senior leadership roles. We are delighted to develop these partnerships to actively encourage women to consider executive education as a way to help them realise their full potential. Partnering with NCI provides a scholarship opportunity for a woman to progress to a higher level of expertise and influence within the field of technology".
Applications for NCI's 30% Club Scholarship are now open. Download the editable application form on our Scholarships page to apply before Friday 28th May 2021.