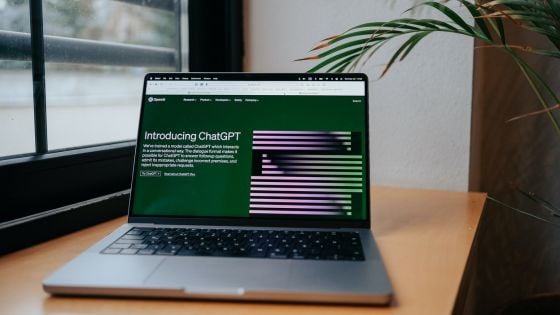 As you've surely heard by now, Artificial Intelligence is a big deal. Whether it's in healthcare, where AI is being used to diagnose cancer risks 30 times faster and with 99% more accuracy than a human doctor, or in business, where companies are providing 24/7 customer service through the use of intelligent chatbots on their website, artificial intelligence is disrupting all industries and changing how we see the world.
To highlight its growing popularity, we only need to look at ChatGPT, the AI chatbot that launched in late 2022. According to stats gathered by ExplodingTopics.com, it took ChatGPT just 5 days to reach 1 million users. Compare this to Facebook, Twitter and Netflix which took 10 months, 2 years and 3.5 years respectively!
AI and Machine Learning will only continue to grow and develop over the coming years, making now the perfect time to learn more about this innovative and exciting technology. We've compiled just a few reasons why you should strongly consider a career in AI:
1. High Demand for AI Specialists
AI is rapidly transforming various industries and is expected to create numerous job opportunities in the coming years. By studying AI, you will equip yourself with valuable skills and knowledge that are in high demand across sectors like healthcare, finance, technology, and more. Whether it's developing AI algorithms, designing tools like ChatGPT, or managing AI projects, the demand for AI specialists is continuously growing, meaning companies who have embraced this new technology will be actively seeking those with the right skills and expertise.
2. Learn Key Skills for Today's Workplace
Despite living in a data-centric world, companies can still struggle to make sense of all the information that is now available to them. Artificial Intelligence can aid this process by extracting meaningful insights from this information and make quick, efficient, data-driven decisions.
By studying AI, you can gain skills in data analysis, pattern recognition, and predictive modelling, all hugely important skills in today's modern workplace. These insights can help your team and business optimise their operations, understand customer behaviour, reduce waste and gain a competitive advantage.
At National College of Ireland, we have the opportunity to offer a number of free courses through the Springboard+ initiative, including two courses focused on Artificial Intelligence. Visit our Springboard+ page for more information.

For students who may not be eligible for Springboard+ courses (such as international applicants), online applications are open for our full-time postgraduate programmes in artificial intelligence. Choose between the MSc in Artificial Intelligence and the MSc in Artificial Intelligence for Business.
The MSc in Artificial Intelligence will give students gain a deeper understanding of the complete development lifecycle of AI software applications from requirements elicitation and analysis, implementation, decision making, evaluation, and documentation. The overall goal of the MSc in Artificial Intelligence for Business is to produce high-quality, technically competent, and innovative graduates with essential knowledge to understand the impacts, design, application, and operationalisation of AI solutions in business contexts.
3. Personal and Professional Development
AI is a versatile field that intersects with numerous other industries, including computer science, mathematics, neuroscience, psychology, economics, to name just a few. By studying AI, you will gain the opportunity to explore and integrate knowledge from these diverse disciplines and collaborate with experts from different fields, fostering creativity and innovation.
This exposure to different industries will aid your personal and professional development, giving you new perspectives on important business processes, such as project management, content creation and teamwork. Your learnings from this exposure will allow you to bring further value to your organisation.
Which artificial intelligence course is right for you? See the courses available for those wishing to transition into a career in this space or to gain deeper knowledge.
4. Positive Societal Impact
Artificial Intelligence has the potential to revolutionise society in numerous ways. We've already mentioned how it is improving healthcare outcomes. However, it can also be used to advance sustainable energy solutions for example. According to an article by the Journal of Petroleum Technology, AI can be used to analyze data collected from sources such as satellite imagery and sensor networks to identify the most promising locations for renewable energy projects such as solar farms, wind farms, geothermal plants, and hydroelectric dams.
This highlights how AI can contribute to solving pressing global challenges such as global warming. By studying AI and building a career in this industry, you can actively participate in shaping the future of technology and ensure its ethical and responsible development, bringing true positive change to the world.
Interested in an AI career? Here's what to do next....
If you're looking for a successful career in this area, it's important that you understand AI and Machine Learning and the benefits that it can bring to a business. NCI offers a number of AI courses that aim to produce high-quality, technically competent, innovative graduates that will become leading practitioners in the field of artificial intelligence. You can learn more about our courses by checking out our Artificial Intelligence Courses page.
Looking to find out more? If you have any questions about our AI courses, get in touch with our Admissions Team by emailing admissions@ncirl.ie.