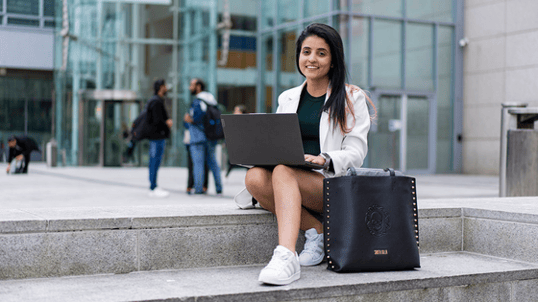 Have you ever considered studying accounting and finance?
Accounting and Finance continues to remain a popular undergraduate and postgraduate course in Ireland, with Chartered Accountants Ireland highlighting a 70% increase in those studying the subject at higher level since 2011.
With excellent graduate prospects, it is clear to see why many students follow a career in this field. We've highlighted just some of the benefits that the BA (Honours) in Accounting and Finance from National College of Ireland can offer graduates.
1. Highly Rewarding Salary
To qualify as an accountant, further training is required following the completion of your undergraduate programme. While this means a heavier workload for the student, it does come with the opportunity of greater financial reward.
According to Jobted.ie, the average salary for an Accountant who recently graduated from their undergraduate programme is €32,500. However, accountants who continue to study and successfully qualify as Chartered, Certified or Public Accountants, can reach and exceed €75,200 gross per year.
Other notable roles that are options for accounting and finance graduates include:
Tax Manager (€70,000 average annual salary)
Business Analyst (€59,331)
Auditor (€58,500)
Financial Analyst (€50,000)
2. Excellent Graduate Prospects
Every company requires accountants and financial experts, no matter the sector or industry, meaning graduates have an excellent chance of being hired within the first 6 months of completing their undergraduate programme.
Graduates typically work in professional services firms, multi-national and indigenous businesses, SMEs, financial services and advisory environments.
If becoming a Chartered Accountant isn't your ultimate goal, there are still plenty of excellent roles and opportunities available to finance graduates, including:
Risk and Controls Analyst
Pensions Specialist
Tax Advisor
Cash Analyst
Almost 40% of graduate jobs are either in the accountancy or financial services sector with the Big 4 Firms (PwC, KPMG, Deloitte and EY) alone employing over 1,000 graduates annually. Often the employer will cover the costs of taking further exams and qualifications, such as the ACCA exams, provided the student passes.
3. Strong Understanding of Additional Business Disciplines
Accounting and Finance programmes not only teaches students specialised accounting and finance subjects but also more general business topics too, including marketing, information and communications and economics. This ensures students understand the relationship between finance and other business disciplines.
This broader business viewpoint gives students an excellent foundation in leadership and management and provides the broad perspective required for the modern interconnected business world.
4. Stepping Stone Towards Other Careers
Due to the relationship between accounting and finance and other business disciplines, an accounting and finance degree can also be used to enter additional areas of the business world.
While the majority of NCI graduates have progressed from the BA (Honours) in Accounting and Finance to the MSc in Finance, students who specialised in accounting and finance for their undergraduate studies have also joined the following courses at NCI:
Graduates of the BA (Honours) in Accounting and Finance from NCI have also joined non-financial roles upon graduating, highlighting that the skills and knowledge developed in this programme are transferrable to other business disciplines. These roles include:
HR Shared Services

Clerical Office

Accounts Manager

Data Analyst
5. International Opportunities
If you are interested in working abroad in the future, the BA (Honours) in Accounting and Finance from NCI could be the start you need to achieve this. The majority of accounting principles and techniques apply across international borders, meaning your accounting and finance degree can take you anywhere in the world.
It is worth noting that you will be required to have a postgraduate qualification to work abroad. For example, you need a Chartered Accountancy qualification to work in the USA. This qualification is fully recognised by the dominant accountancy body in the US (AICPA), one of the few finance and accountancy qualifications to hold this status.
Studying Accounting and Finance at NCI
Whether you're starting or continuing your studies, NCI has the course for you:
Undergraduate Courses
Postgraduate Courses
If you have questions about Accounting and Finance programmes at National College of Ireland, check out our upcoming events to speak to our team and get the answers you need.