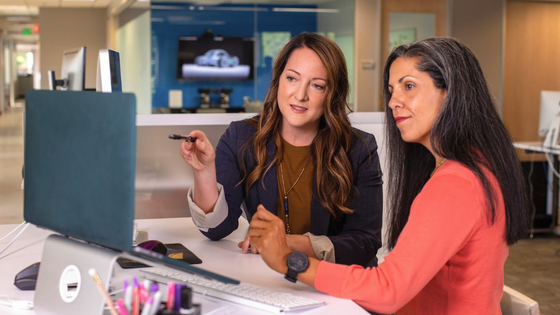 An MBA or Master of Business Administration is synonymous with senior management leadership positions. At NCI, we think of an MBA as a 'passport' that can open up new career opportunities both in Ireland and internationally.
While you, as a reader, may be aware of this type of a degree, you may have landed on this article as you're curious about what exactly an MBA is and the benefits it can bring you, both personally and professionally. We've done the research and gathered information from our academic team and recent graduates to bring you the main reasons to study an MBA degree.
1. Develop Business Acumen
An MBA is designed to challenge you in new ways. It will help you build skills and develop knowledge in different areas such as leadership, finance, and strategic management.
This prestigious qualification will allow you to bridge the gap between a technical background and business or upper management roles. Technology graduate, Jennifer O'Brien, has nearly two decades of experience working in IT roles but found that she preferred business roles with a tech aspect to them.
"Doing an MBA is not something I had always thought about but, as my current role developed, I wanted to develop my own skill set as well. I didn't want to do a specific subject master's degree, but a broad-based business one. In meetings, people listen to you when you are able to speak their language - that's what you learn in the MBA."
2. Build a Diverse Network
Joining an MBA programme means becoming a member of a group of like-minded professionals who are ready to embrace a big change in their career. Your classmates will become important contacts who you will share lively discussions and professional experiences with; this will become a major part of your MBA journey.
MBA students typically have five years' experience at middle management level. Your classmates will come from a wide range of industries and backgrounds, from engineering to technology and pharma to banking. This leads to more diverse conversations, different viewpoints and contrasting strengths. See our MBA student profile for more details.
Watch this video to hear from recent MBA graduate, Jim Quill, along with lecturers on the course:
3. International Recognition
Recognised globally as the gold standard in business education, an MBA can help you position yourself to move into the highest levels of business. National College of Ireland has over 65 years of experience in delivering real-world management education; our MBA course is highly regarded, practical, inspiring and a real career game-changer for our graduates.
David Hurley, Marketing and Entrepreneurship Lecturer at NCI and recipient of the President's Award for Distinguished Teaching, acknowledges the reward that comes with choosing this path:
"An MBA is an internationally recognised qualification – a 'passport' to greater things both personally and professionally. My teaching approach is all about providing the real-life tools and examples that help students identify and achieve these greater things."
4. Become a Successful Leader
Learning from experienced faculty members who have distinguished careers in academia and industry means your MBA lectures will be informative, engaging, inspiring, innovative, and practical. The course at NCI will feature a mix of engaging assessments, interesting guest speakers and real-world business projects.
Collectively, the challenges you experience throughout your 2-year MBA journey at NCI will act as steppingstones on your way to becoming a successful leader. Not only will you be able to walk into the boardroom with confidence, but you can expect career advancement opportunities to open up both internally and externally when you undertake an MBA.
5. Develop an Entrepreneurial Mindset
While an MBA qualification can set you apart from your competition in the job market, contribute to your personal development and springboard you into a new career, a huge benefit of being part of this programme is that you will gain the knowledge to start your own company.
"Many MBA programmes are not taught in a way that encourages students to think critically. The NCI programme emphasises experimentation, critical thinking, innovation and entrepreneurship." Dr Colette Darcy, Dean School of Business NCI
Our emphasis on developing an entrepreneurial mindset makes the NCI MBA a highly regarded and much-sought-after qualification for employers globally.
NCI's Master of Business Administration (MBA) part-time two-year course is a well-established route to career success for our many successful students. Applications for the next intake will open in Spring 2023. Visit our MBA section to learn more.