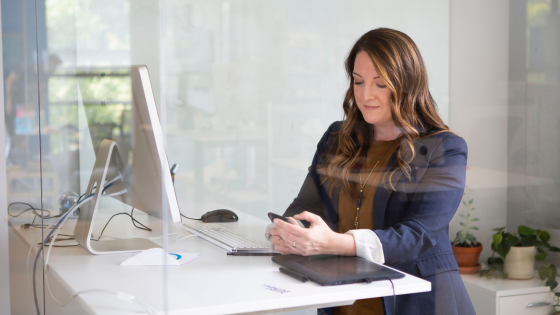 Are you working in a HR role that requires you to upskill in the area of learning and development? Perhaps you have set yourself the challenge of specialising in L&D to further your career or apply for roles which focus on this aspect of the human resources spectrum.
One key thing you could do to demonstrate to your employer or future employer that you are ready to take on this challenge is to gain a qualification in professional learning and organisational development. At National College of Ireland, we offer the below courses which lead to membership of the Chartered Institute of Personnel and Development (CIPD):
Now, let's take a look at why a qualification in professional learning and organisational development can help you take your career to the next level.
Gain CIPD Membership
On successful completion of your studies, you will automatically be eligible to upgrade from Student Member to Associate Member of The Chartered Institute of Personnel and Development (CIPD). This is the Professional Association for human resources and learning and development experts across Ireland and the UK.
CIPD membership benefits include access to a thriving community of professionals who can share knowledge and provide support and learning opportunities. You will also be able to keep up to date with the latest learning and development research and current practices through the knowledge hub and receive career guidance to help you excel in your role.
Learn from Superb Lecturers
Lecturers on both the Certificate and Diploma programmes mentioned above have extensive experience in the field of learning and development. Along with lecturing, they are all still working and consulting in the field at an expert level meaning you will learn a lot from them across various areas including the design, evaluation and facilitation of learning and development, organisation culture and development and strategy and future developments in the field. For those of you who choose the diploma, you will also complete a great module teaching you how to develop digital content and another one teaching you how to implement coaching in your organisation.
With friendly and approachable lecturers, along with engaging modules, these courses offer excellent classroom environments (both virtual and in-person), which may help those who may be nervous about returning to study or who are starting part-time studies for the first time.
Diverse Career Options
With careers ranging from digital design specialist to management development facilitator to organisational development expert, there are a wide range of career opportunities associated with specialising in learning and development. Typical activities may include using digital tools to create flexible and innovative learning programmes and driving a culture of continuous professional development in your organisation.
There are no geographical boundaries to this skillset meaning you can travel and gain a wealth of experience in other countries when you gain a qualification in learning and development.
L&D Specialists are in High Demand
With skills shortages in many industry areas being talked about continuously in the media, guess who steps in to fill the gap? Yes, the learning and development specialist may work to upskill existing staff to meet the challenge of new and exciting opportunities in the company and also to train inexperienced staff.
Large companies in Ireland have learning and development or organisational development departments who recruit specialists in this field. There are also specialist suppliers who will want your skillset and a CIPD qualification will ensure you stand out to recruiters during the application and selection process.
Double Recognition by QQI and CIPD
Starting from September 2023, our CIPD-accredited courses in professional learning and organisational development have the added benefit of being recognised by QQI on the National Framework of Qualifications at Level 7. Quality and Qualifications Ireland (QQI) is the Awarding Body for programmes offered at NCI. By giving an academic value to these qualifications, the NFQ levels help indicate how an award can be used for training, education, and employment opportunities both nationally and internationally.
While many employers hiring for roles in this space look for candidates who have achieved CIPD qualifications, validation from QQI will act as an added bonus and ensure the knowledge, skill and competence gained as a result of completing the Certificate or Diploma is suitably recognised.
Given all the above reasons, we know you will make the right decision so we look forward to welcoming you to the (CIPD) Diploma or Certificate in Professional Learning and Organisational Development at National College of Ireland soon.
Visit our CIPD Courses page to see the full range of programmes offering accreditation by the professional body for HR and people development in Ireland along with other programmes which can lead to CIPD membership.