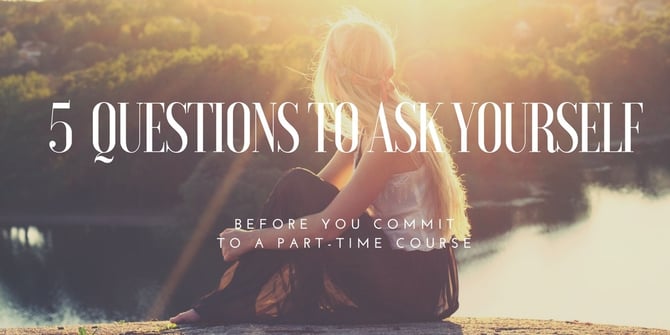 Considering a return to education but worried about how you will juggle your studies with your other life commitments? Then a part-time course might just be for you. Not only will a part-time course provide you with the flexibility to combine your academic studies with your work and family commitments, but it can also improve your confidence and indeed enhance your social life. Nonetheless, the decision to undertake a part-time course is one that should take careful consideration. So here's some questions to ask yourself before making your decision.
1. Why do I want to do a part-time course?
Before you sign up for a part-time course you should first ask yourself why? Why do I want to do a part-time course? Write down your reasons for doing further study, what you want to achieve and how a part-time course can help you to do this. The three main reasons we hear for people undertaking a part-time course are to further their knowledge in a given area, accelerate their career progression or to facilitate a career change. If any of these ring true for you, then a part-time course could help.
2. Is a part-time course worth the time and money?
There's no right or wrong answer as to whether a part-time course is the right thing to do. It all depends on you. If you're ready to apply yourself, meet new people and indeed take your career to the next level, then yes a part-time course is worth the time and money. However, if you're not willing or able to put the effort in right now, then maybe it's best to give the course a miss for this year. Be realistic about the demands and commitments required. Consider your partner, your family and/or your current role, and make sure you have the support of the people around you to do a part-time course.
3. Can I facilitate a part-time course?
What this boils down to is whether or not you can physically do a part-time course. Most part-time courses are run over two evenings a week with some Saturdays, so you will need to be free and able to attend lecturers at least two evenings a week. Sure, this sounds like a lot at first, but just think of it as a hobby. Like football training or yoga class, a part-time course can also be fun, and looks great on your CV.
4. Is the college close to my place of work?
Most part-time courses run from 6pm to 9pm so the location can be a big factor if you work a 9 to 5 shift. This means that you will have to consider how long it will take you to get from work to college. NCI is located in the heart of Dublin's IFSC and is just a five-minute walk from Busáras and Connolly station. The college has its own car park and Luas stop, on the red line. If time is an issue for you consider asking your manager to make arrangements to facilitate your course. Most managers will be thrilled that you are investing in your professional education and will be happy to facilitate this.
5. Am I eligible to do a part-time course?
Once you've decided that a part-time course is for you and you're in a position to facilitate it, the next step is to ensure you are eligible. All postgraduate programmes at NCI require applicants to hold a minimum of a 2.2 honours degree. However, NCI also operates a Recognition of Prior Learning (RPEL) scheme whereby applicants who do not meet the normal academic requirements may be considered based on relevant work and other experience. Nonetheless, if it's a part-time Bachelor of Arts degree or a CIPD programme in which you are interested then your application will be considered based on relevant work and other experience. We recommend checking out the entry requirements for the course you wish to enrol on to ensure you are eligible.
So if you've thought about a part-time course and decided it's right for you, the next step is to research different colleges, visit campuses and go to an open event. Where you study your course is just as important a consideration as if you should study one at all, so do your research and come along to NCI's next open evening on Wednesday 11th of January from 5pm to 7pm at our Dublin city-centre campus.
Questions? Feedback? Leave us a comment below. All commenters on NCI's blog get added to a raffle, to win a weekend away!