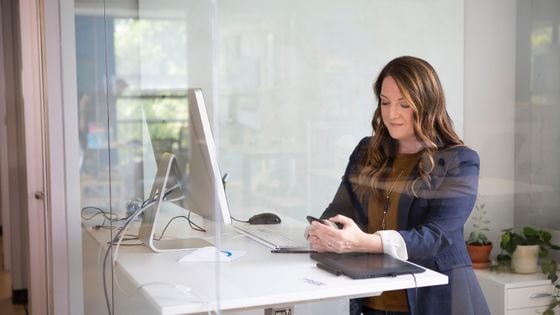 Are you ready to take the next step in your career but unsure how to do it? Postgraduate study could be your answer!
Whatever your current career goals are, whether you want to move into a management role, earn a higher salary or change career paths entirely, acquiring a postgraduate degree can help you work towards achieving these goals.
While pursuing a postgraduate degree can be a difficult task, especially for those working a full-time job alongside your studies, it can be highly rewarding and can help propel you to the next stage of your career.
Here's how studying at postgraduate level can help your career:
1. Promotion Opportunities
Obtaining a postgraduate degree could be the difference between you and another candidate when applying for a new role. Formal qualifications, as well as relevant work experience, will highlight to employers your suitability for the role, as well as show them that you are keen to upskill and improve your existing skillset in order to make a worthwhile contribution to their business.
For example, graduates of the Master of Business Administration (MBA) leave NCI as suitable candidates for management roles within their organisation as they have been exposed to the latest thinking in the core disciplines of enterprise, leadership, management organisation, people management, strategy, management of financial resources, and economics for managers.
The MBA at NCI aims to encourage entrepreneurial thinking in our students, a valuable and essential skill in business leadership which makes our graduates valuable assets to an organisation and prime candidates for management roles that become available.
2. Change in Career Direction
If you are looking to change career path but are worried that it's too late to make the move or that you are "too far behind" other professionals already in this new field, postgraduate study is a great way to get you on the right track.
A postgraduate degree from NCI will arm you with the latest knowledge and trends to ensure that you are learning what is relevant in that industry and, more importantly, give you the skills and expertise required for a role that is specialised, in demand and well paid, making you a standout candidate for roles.
If you are looking to move into a new sector or upskill, check out our Springboard+ and Human Capital Initiative (HCI) courses. These Government-funded initiatives allow us to offer courses for free, or at a reduced cost, in areas where there are skills shortages in the workforce such as Data Analytics, Cybersecurity, Artificial Intelligence, Blockchain, Software Development and Web Development.

3. Financial Opportunities
As well as gaining increased knowledge of your industry and role, a postgraduate degree will come with an increased salary. Studies have shown that roles that require a postgraduate qualification along with an undergraduate qualification often come with significantly higher wages. For example, a recent graduate with a Bachelor's Degree may start on €31,000 while a Master's Degree or MBA starting with €34,300 or €35,500 respectively.
4. Networking
A postgraduate course isn't just about learning the latest theories and strategies, it also represents a fantastic opportunity to grow your own professional network by meeting like-minded professionals who are also looking to progress their career. Building relationships with individuals from diverse backgrounds and getting exposure to their industries and companies can help you learn and grow as a professional and may present business opportunities for you further down the line.
If you are a graduate of NCI, check out our Alumni page to reconnect and network with former classmates.
5. Work and Study
A major benefit of postgraduate studies is that they afford you the opportunity to continue to work and earn a living whilst studying.
While they can be challenging and time-consuming, part-time courses offer students the opportunity to take what they are learning from the course and apply it directly to their working role, meaning you can make an immediate and instant impact in your role with your course learnings.
To learn more about the part-time courses offered at NCI, check out our Part-time courses page.
6. Become an Expert in your Field
If you are an ambitious professional, striving to make the very best contribution, a postgraduate degree ensures that you remain at the top of your profession. With access to world-class lecturers and resources, a postgraduate degree from NCI will help you turn your ambitions into reality.
Interested in taking that next step in your career? NCI has a wide range of postgraduate courses designed to deepen your understanding of industries and roles, as well equipping you with new skills and techniques. Visit our Postgraduate courses page to learn more.