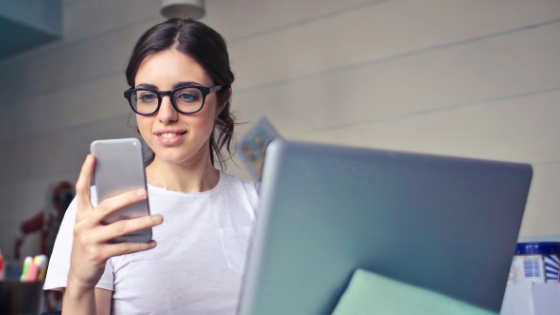 Students who started NCI courses during the pandemic undoubtedly missed a big part of college life. As a group of new third-level students, you haven't been able to socialise freely with your classmates at our IFSC campus. Luckily, technology can be used to your advantage to help you connect online with classmates you meet during your two on-campus days in some fun and interesting ways.
Before we jump into those ideas, it's important to understand how building relationships with your peers in college can add value. Connecting with your new classmates can lead to:
Higher motivation levels
Increased academic results
Developing a sense of belonging
Improved mental health
With the reasons for socially engaging with classmates covered, we've come up with some ideas, with the help of your new NCISU Communications Officer. Pick your favourites and share an update with us in the comments below!
1. Create an online study group
You'll get familiar with using Microsoft Teams for your online classes soon. You can create groups on the platform which provides a straightforward way for you to schedule a time for group study to discuss your progress with assignments, the class material and have a general catch-up.
2. Connect with your Student Leaders
Your Student Leaders will be introduced to you during your orientation session before classes start. They're there to answer any questions you have and point you in the direction of useful resources. Drop them an email, send them a message on Teams or connect with them on social media so you can reach out to them whenever you need them.
3. Join clubs and societies
Clubs and societies form part of the social landscape of a student's college experience. Whether you're interested in football, badminton, golf, music, dance or photography, you can join a club or society through the NCISU website to meet new friends from across the college!
4. Organise a virtual tea break
Something everyone is missing at the moment are those 'watercooler' chats which for students would be in-between lectures or while walking to class. Make an effort to incorporate virtual tea (or coffee or smoothie) breaks into your day and use this time to talk about whatever you want!
5. Actively participate in class discussions
Take the leap and unmute your mic to ask a question during your classes (at the appropriate time). You never know what it might lead to; a chance for your classmates to see who's behind the screen and maybe even to flex your debating skills. Remember that it's hugely beneficial for your education to join your classes live rather than watching a recorded video so you can take part in discussions and get answers to your questions in real-time.
6. Take part in online events
Classes weren't the only thing to move online during the pandemic with many businesses transitioning to digital working along with all scheduled events. NCI students have access to a range of virtual events throughout the semester such as our Wellness Workshops which cover topics such as time management, self-care and exam prep. NCISU also run online events as do our International Team, follow them on social media to keep up with the latest announcements.
7. Take advantage of social media
Speaking of social media, this can be a valuable asset when you use it to your advantage. Start connecting with your new classmates on Instagram, follow them on TikTok and other channels to get to know them better and see if you have friends in common. Make sure to follow @NCIRL also (we're on Instagram, Facebook and Twitter) for student updates and the latest news from the College.
8. Find common interests
Here are some ideas to help you find your tribe in college:
Play video games together in your spare time
Have a movie night using the Chrome extension 'Netflix Party'
Host an online quiz (if you haven't been overloaded by now)
Take part in an online exercise class with a fellow student
Network with other students at a Connect Café (details to be announced)
Suggest setting up a WhatsApp group for your class
As you can see, there are lots of ways to virtually meet your new collegemates. Throw yourself into the online social scene at NCI and you'll soon find these activities enriching your college experience.
How will you connect with other students online at National College of Ireland? Comment below or send us a message on social media to let us know what has worked well for you!